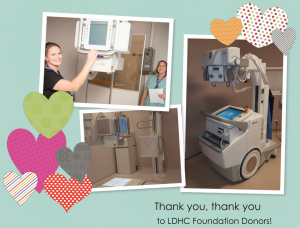 The LDHC Foundation extends a heartfelt THANK YOU to donors who have contributed to the two campaigns which raised funds for the Digital Radiography Upgrade, Phases 1 & 2. A total of $300,000 was raised in these two campaigns. $150,000 for Phase 1 and $150,000 for Phase 2, all made possible by the generous hearts who have supported health care enhancements at your local hospital.
Here's what the Diagnostic Imaging staff members had to say about the new x ray department:
"The new digital portable allows outstanding radiography in emergency situations."
"Our new equipment allows us to provide excellent care with improved image quality, faster processing time (of images) and less radiation."
Thank you for your continued and generous support! We will be starting a new campaign soon; please stay tuned for the announcement. As always our fundraising efforts in any campaign are to enhance local health care. Every dollar raised stays here!
For more information about the Foundation or how to donate today contact Crystal Lutz at 705-856-2335 extension 3219 or email us at [email protected].
Generous Hearts ~ the key to a healthy future."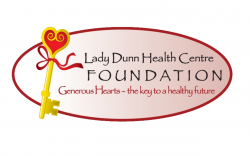 Latest posts by LDHC Foundation
(see all)