Jan 8, 2018 @ 20:58
Highway 17 was closed for the better part of Sunday, January 7th, 2017. A tractor-trailer carrying uranium concentrate was headed south at the Montreal River Hill when it tried to go around a jack-knifed tractor-trailer that was headed up the hill. Unfortunately as it tried to squeeze by, it got trapped, tearing a small hole in the wall of the trailer carrying the concentrate.
At 10:04 .m. OPP Communications NER tweeted "ROAD CLOSURE: #Hwy17 CLOSED both directions from #SaultSteMarie to #Wawa due to poor weather conditions." Nine minutes later, Ontario511 tweeted "Wawa: #HWY17 from #HWY101 (E) – Sec #HWY563, all lanes are blocked due to a collision. #ONHwys".
As with any incident with hazardous materials, potential risks are evaluated. and all safety precautions followed. The Ministry of Environment was called, and with the materials involved posing a radiation risk albeit a low one, additional safety precautions would have to be followed. In addition, a team from Cameco's refinery in Blind River (where the transport was headed) came to inspect the trailer before it was moved.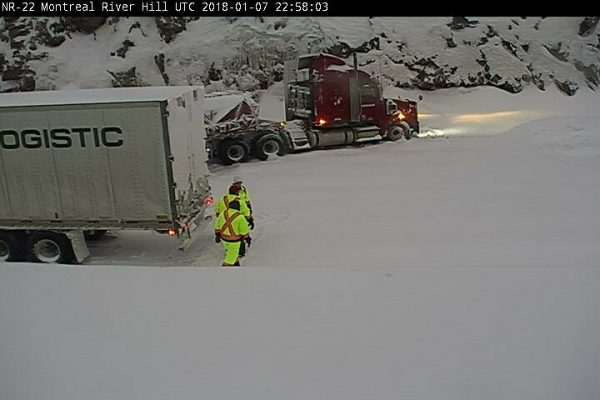 The highway was finally reopened once it was determined that it was safe to remove the trucks. Ontario511 tweeted, infoming the public that first, the southbound lane was opened from Wawa at 6:46, then northbound at Batchawana at 7:33, with OPP confirming the highway open all lanes at 7:55 p.m.
In all the highway was officially closed for 10 hours, a very long wait for those at the Montreal River Hill or at the Batchawana barricade. Superior East OPP has not yet returned Wawa-news call of this morning for information regarding this incident.
Latest posts by BrenAdmin
(see all)