Jan 7, 2018 @ 19:56
At 7:55 OPP Communications tweeted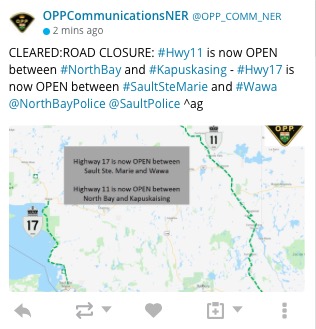 ---
Jan 7, 2018 @ 19:33

---
Jan 7, 2018 @ 18:57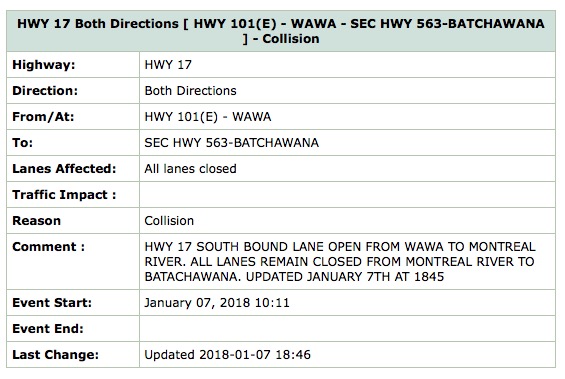 ---
Jan 7, 2018 @ 15:33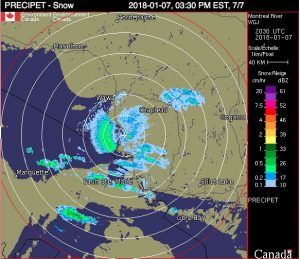 The snow squall warning for Marathon to Schreiber has ended at 3:30. The snow squall warnings continue for
Pukaskwa Park – Wawa,
Agawa – Lake Superior Park
Searchmont – Montreal River Harbour – Batchawana Bay
Snow squalls from Lake Superior will persist into tonight with snowfall amounts of 15 cm in 12 hours are possible in the heaviest bands. Snow squalls are expected to weaken temporarily sometime Monday morning, then redevelop in the afternoon.
---
Jan 7, 2018 @ 15:03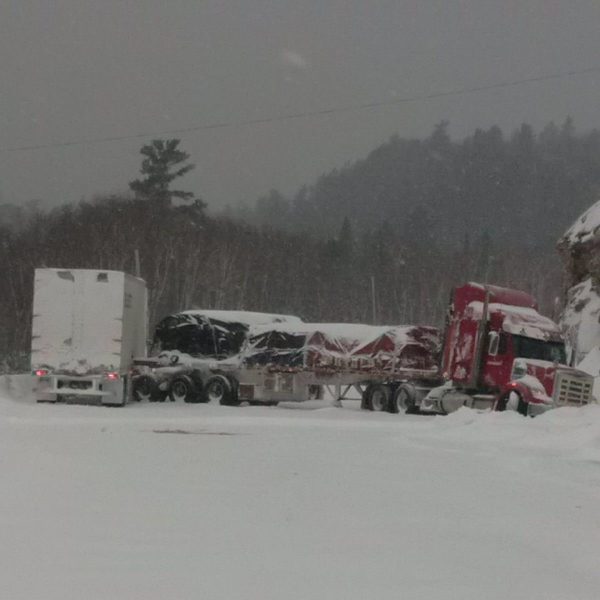 OPP tweeted this photograph of the collision at 14:05. "#OPP Superior East det. report #Hwy17 at Montreal River closed due to T/T crash. Weather is deteriorating expect delays #SeeSnowGoSlow"
There has been no indication as to when the highway might reopen.

---
Jan 7, 2018 @ 11:53
Jan 7, 2018 @ 10:24
Ontario511 has posted on their Highway Closures that Highway 17 is closed between Wawa and Batchawana (Highway 563) due to a collision.
at 10:04 OPP Tweeted that the highway has been closed due to poor weather conditions.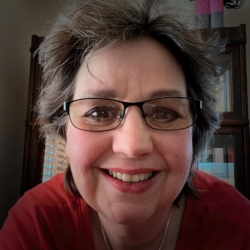 Latest posts by Brenda Stockton
(see all)