Apr 26, 2017 @ 09:55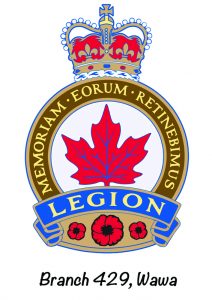 Another week and we will be in May, but first our Ladies Auxiliary will have a luncheon on Thursday April 27th from 11.30 till 1.00 pm serving Perogies with Bacon and onions.  And Beef macaroni soup. Or veggies with dip. For the low price of $10.00.
With May coming we will once again remember the end of WW2 on May 8th. As it has been 72 years since OUR veterans finished the war in Europe. In Europe they are preparing for 2020 to celebrate the 75th. Anniversary. Our membership meeting in May will be on Thursday the 11th at 7.00 pm and there will be the elections for the new slate of officers and the executive committee.
In the week of May 1th the Legion service officer will be coming to Wawa. So any veteran or dependent who needs help please contact our office for a appointment.
Last Saturdays cribbage winners were ;1st. Irene and Peter, 2nd Iris and Keith. Boobs Chris and Kim. The Meat spin was won by Kenny and 50/50 by Cliff.
Johnnie was in school and with Geography the teacher asked Peter to show the United States on the large map of the world.
Then she asked Johnnie who discovered the United States. So he said …." Peter just did!"
To all our Comrades sick at home, in the hospital or nursing homes you are I our thoughts and prayers and we wish you well.

Latest posts by Nick Veldt
(see all)