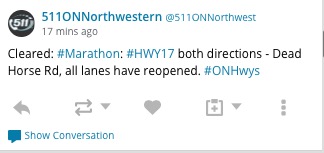 Sep 21, 2018 @ 12:54
On Sept 21, 2018, at approximately 12:02 a.m. officers from the Marathon Detachment of the Ontario Provincial Police (OPP), Terrace Bay Emergency Medical Services (EMS), and the Marathon Fire Department responded to a fatal motor vehicle collision on Highway 17 west of the Little Pic Bridge.
The investigation has determined that a black pick-up truck travelling eastbound on Highway 17 left the roadway and entered the westbound ditch.
The female driver who was the lone occupant was pronounced dead at the scene. She has been identified as 34-year-old Jessica MARTIN of Manitouwadge, Ontario.
The OPP Highway Safety Division (HSD) and Traffic Collision Investigators (TCI) are assisting with the investigation. Highway 17 is down to a single lane until further notice.

The Ontario Provincial Police (OPP) provide policing services throughout Ontario. Our officers are responsible for policing over one million square kilometres of land and waterways. They provide frontline policing services to more than 320 Ontario municipalities and patrol over 126,000 kilometres of provincial roadways.

Latest posts by Ontario Provincial Police (see all)