Mar 2, 2018 @ 10:46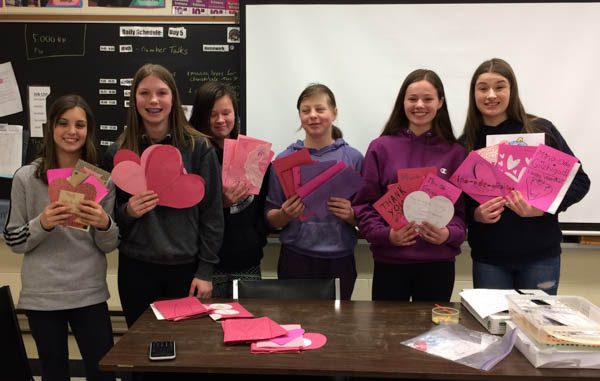 February may have come and gone but it certainly was a very busy month for the staff and students of Sir James Dunn. 
The Grade 8 Game Changers were busy organizing a few things at the school.  At the beginning of January, each classroom was approached to make some Valentine Cards for the many Veterans who have served our country. It was a simple way to show ourgratitude for their sacrifices and achievements in serving our country. Once all the cards were complete they were mailed to Charlottetown, Prince Edward Island. We hope the cards brightened a Veteran's day.  
The Game Changers also helped organize an afternoon of Math Olympics.  Six classrooms were filled with various math games that ranged from addition games, tangram games, fraction games, geoboard games, to games of strategy such as Yahtzee.  Some students also got to try out the Spheros. What is a Sphero you ask?  It is one way to integrate robotics into the classroom.  Robotics can help teach students both basic and advanced mathematics. Robots can provide an interactive means of teaching kids about math in context by taking the numbers off ofthe page and into real life.  From the responses of many of the students they would love to have another Math Olympics Day.  Many students also participated in 100th Day Celebrations, Red, White and Pink Day, a Food Drive Challenge and finally a Hat Day.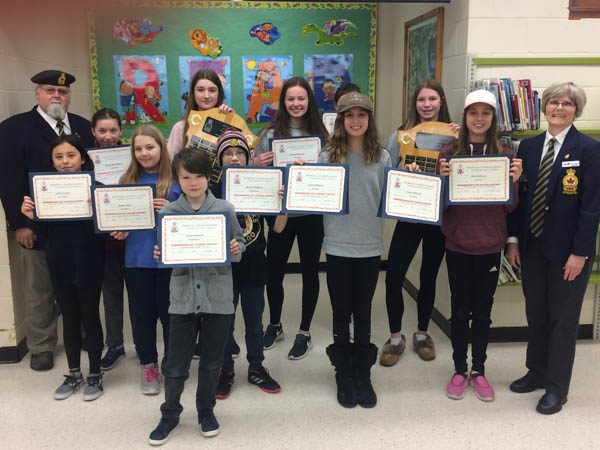 February also saw students from Grades 1 to 8 participate in Public Speaking.  After writing, editing and memorizing the various topic choices students presented their speeches to their classmates. Then students were chosen to participate at the school level and finally at the Annual Public Speaking Contest held at the Royal Canadian Legion.  Here there were 3 divisions – Primary (Grade 1-3), Junior (Grades 4-6) and Intermediate (Grades 7-9). In the Primary Division Lillian, Chase and Riley all received Honourable Mentions. In the Junior Division, Aiden camein second, Nola came in third and an Honourable Mention went to Alexis.  At the Intermediate Division, 1st place was awarded to Kendra while 2nd was awarded to Annika and 3rd spot was captured by Alana.  Congratulations to everyone!  The staff of Sir James Dunn would like to thank the Legion for continuing this valuable learning experience for the children of Wawa.   
Congratulations also goes out to all the SJD students that took part in the Remembrance Day Poster and Literacy Contest. This year SJD was well represented in the prizes!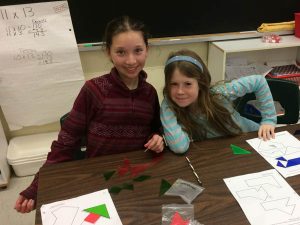 Makai took first place in the Local Junior category for his coloured poster. Makai's poster was advanced to the next level of the competition and he received a third place in the District Level.Zoe's coloured poster was awarded first place in the Local Intermediate Division and Lucas received 2nd place for his efforts. Zoe's poster also received 1st place at the District Level and is currently entered in the Provincial Level.  
In the Black and White poster category, Nola received 1st place in the Local Junior Division and 3rd in the District Level. Lyllie andEmma came 2nd and 3rd, respectively. In the Intermediate Level, Ellie received 1st place at Local Level, with Kendra coming in 2ndand Alana capturing 3rd place. 
Poetry and Essay writing were also contests and SJD represented well here as well. For Poetry at the Junior Local Level Harlie, Marek and Kyston received 1st, 2nd and 3rd.  At the Local Intermediate Poetry Level, Alana and James received 1st and in 2nd, respectively. In the Essay contest, Brooke earned a 1st place finish. While Trynity and Annika placed 2nd and 3rd.Brooke also received a 1st place finish for her essay at the District Level and her essay is currently being judged at the Provincial Level.  We again Thank the Royal Canadian Legion for thisopportunity. Way to go SJD, we are so proud of all your accomplishments! 
SJD is the place to be!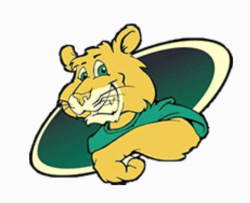 Latest posts by Sir James Dunn School
(see all)