May 16, 2017 @ 14:04
The Lady Dunn Health Centre Foundation received a surprising finish to the Spring Campaign. The Wawa Rotary Club generously donated $2,500. Mark Owen, Rotary member, presented the cheque to the Foundation and stated; "The Rotary Club wanted to give a boost to the final weeks of the Spring Campaign." Thank you to the Rotary Club for making this donation which will help to fund the purchase of a Digital Radiography system for the x-ray department. Your gift is greatly appreciated!
For more information about the Foundation or how to donate today contact Crystal Lutz at 705-856-2335 extension 3219 or email us at [email protected].
Generous Hearts ~ the key to a healthy future.
About the Wawa Rotary Club of Wawa
The Rotary Club of Wawa was charted in 1961 and over the years has become an integral part of the community. Through their many fundraisers throughout the year, this group of volunteers is able to provide funds to many local groups in our community such as the local schools, the Lady Dunn Health Centre, minor hockey and the Adult Learning Centre. The Rotary Club focuses its efforts in six areas which reflect some of the most critical and widespread humanitarian needs: peace and conflict prevention/resolution, disease prevention and treatment, water and sanitation, maternal and child health, basic education and literacy, and economic and community development. The main club meets at the Embassy Restaurant, Wednesday evening at 6:10. The Satellite Club meets on alternating Friday mornings at 7 a.m. at the Embassy Restaurant.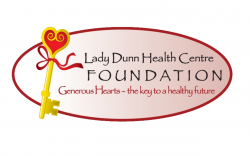 Latest posts by LDHC Foundation
(see all)