Alleluia!  Christ is Risen!
Christ is Risen Indeed!  Alleluia
 Although we cannot meet for Worship together you may like to read the Scriptures for April 26, 2020 – Third  Sunday of Easter.
   Acts 2: 14a, 36 – 21   Three thousand new followers of the Way
Psalm 116                    How can I repay you, God ?
1 Peter 1: 17- 23        Souls purified through obedience.
Luke 24:  13 – 35       Jesus' appearance on the road to Emmaus
To Ponder: How do I repent of something I didn't do personally but that has been part of the culture that has shaped me?
Gathering Lent/Easter 2020  pg. 21  – used with permission
The U.C. W. requests that ALL items for the next Thrift Shop be saved at home as we cannot enter the Church to sort.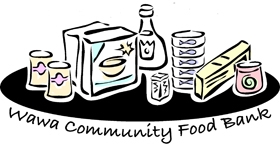 Latest posts by Wawa Community Food Bank
(see all)