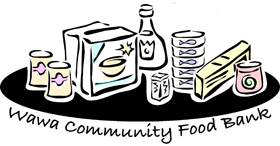 Wawa Community Food Bank wishes to thank the many individuals, businesses or groups who have supported our efforts to supplement food essentials for people in need through this fall.
Our community members find many ways to be of assistance through the donation of Valu Mart gift cards, gently used clothing or footwear, pet food, financial contributions and, of course, non- perishable food items. Our appreciation goes to Sue Kirby, Tex Luoma, Ministry of Natural Resources Firefighters, Cathy Pellegrini, Carol Anne Robinson, and Wagging Tails Kennel. We also recognize those who contribute to the designated food bank cart at Valu Mart and to the donation bin inside the doors of 96 Broadway Ave.
We would also like to thank The Bargain Shop, manager Nick Veldt and staff and people in the community who donated goods and filled multiple shopping carts with everything from canned fruit, meat and vegetables to cereal and cookies. This came at an opportune time when our shelf stocks were diminished.
Thank you as well to the Bumps, Babies and Beyond Expo, organized by Laura Mitchell, for thinking of us through the generous donation of a cheque, the collection of food items and the proceeds from a door prize jar.
An extra special thank you goes to Austin Fellinger for ensuring that the results of his participation in "Tins and Toonies – Hockey Players Fighting Hunger" came to his hometown of Wawa. It is wonderful to see young people supporting local charitable causes.
Once again we acknowledge Ron Ingram of Desbarats Farmers Market for his provision of fresh fruit and vegetables. These healthy food choices make a welcome difference in the diet of our clients.
Naturally Superior Adventures has been a long-time supporter of our food bank. We gratefully receive the canned goods and funds provided by patrons of the dinners and entertainment initiated by David Wells, Judy Page and staff.
Food Bank volunteers and clients are very appreciative of the efforts of Ford's We Scare Hunger campaign, which, through the month of October, collects a pick up full of non-perishables. We look forward to the delivery date in early November.
Our biggest community event and fundraiser, Feed The Need, will be held at the Community Centre on Sunday, November 25, from 11:00 am to 3:00 pm.  For a canned food or financial donation, everyone will receive a hot dog from the Lakeview Hotel, hot or cold beverage from John's Valu Mart or Tim Horton's, and a cookie from SUBWAY. A ballot for a door prize from Canadian Tire, Styles by Iris Luke, Reiki and Meditation by Tina Smith, Wawa RV Resort and Campground, and Wagging Tails Kennel will be provided as well as a number of drinks coupons from Mac's. Local musicians will entertain through the afternoon and MNRF mascots will be present.
Thank you to all who have attended this family-friendlyy event in the past. If you are wondering what to bring, we suggest any of soup, pasta sauce, pasta, vegetables, brown beans or canned meat, tuna or salmon. Another option might be a new pair of socks for men or women. All donations are gratefully received. We anticipate a great turn out to help us get through the winter ahead.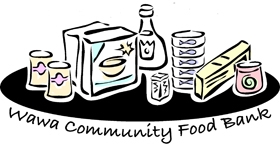 Latest posts by Wawa Community Food Bank
(see all)