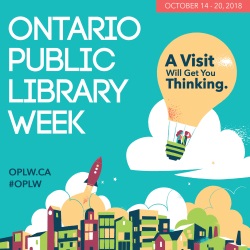 The Wawa Public Library is celebrating Ontario Public Library Week from October 14th– the 20th!
We will have our Book Sale starting on Oct. 15th through to the 20th during our regular library hours.  If you have some small overdue fines, this is your chance to have them forgiven with "Food For Fines".  Bring in non-perishable donations for the food bank and we will forgive your fines during Library Week only.
We will also have a Colouring Contest for the kids. There will be 2 prize packages; one for kids aged 7 and younger and the second for kids aged 8 and older. Colouring picture will be available at the library beginning October 1st, 2018. Draws will be made on Friday, October 19th2108 at 1pm.
Our winner for the Alzheimer Society book prize will be drawn on October 19th, 2018.
We are also having another Music Night with Don Charbonneau and Friends tonight Tuesday, October 16th starting at 6 pm. Don is a great entertainer and musician and we hope you come and join us.
Come in and visit your Wawa Public Library during Ontario Public Library Week!
The Wawa Public Library (WPL) has a great selection of books, magazines, DVD's, Blu-rays, Audiobooks, French books, and Children's collection!
The Library offers photocopying, faxing, laminating, printing, and VHS to DVD conversion. Free WiFi is available at the library, with 4 public computers and 3 iPads for public use.  Please inquire at the circulation desk.
WPL has a Drop Box for your convenience.   You may deposit your returns only in the drop box when the library is closed. Please do not deposit batteries or ink cartridges in the drop box as they may damage our books.
Check out the Wawa History page as well as The Wawa Public Library on Facebook. We also have a Facebook page for our Summer Program, posting daily to keep you updated.Our Wawa History website is www.wawahistory.wawa.cc
The WPL is closed Sundays and all holidays. We are open Monday through toFriday 11 a.m. – 7 p.m., and Saturday from 11 a.m. until 4 p.m. Telephone – 705-856-2244 ext 290 Circulation Desk, or ext 291 (Librarian's Office), email
[email protected]
Remember – library membership is FREE to residents of the Municipality of Wawa and contracting communities.Come in today and check out YOUR Wawa Public Library!
Latest posts by Wawa Public Library (see all)