May 3, 2018 @ 07:21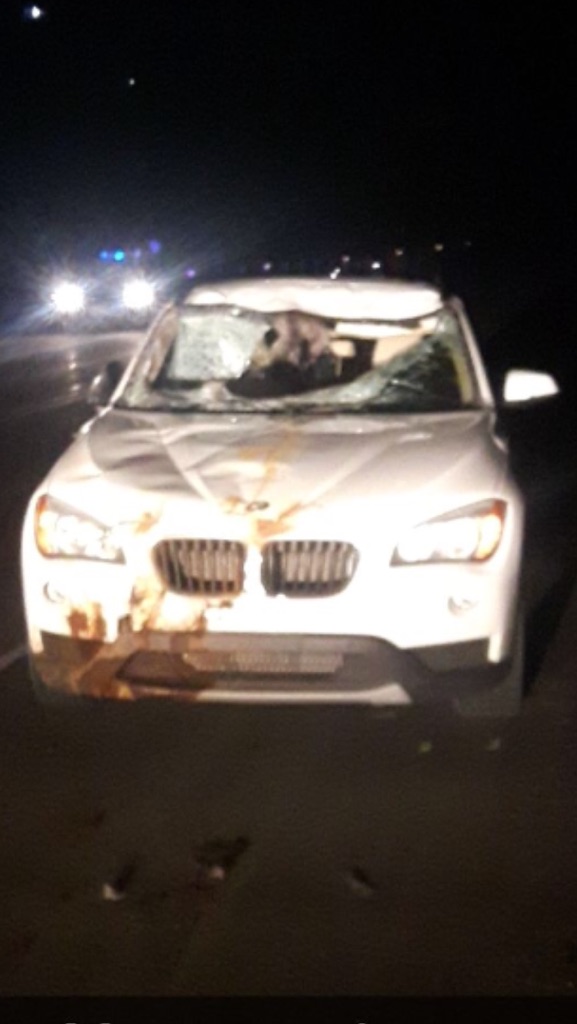 Members of the Marathon and Manitouwadge Ontario Provincial Police (OPP) detachments responded to two separate motor vehicle collisions involving moose that occurred on Highway 17 and 614.
April 30, 2018 at 10:00pm officers were advised of a single motor vehicle collision (MVC) 30kms south of Manitouwadge on Highway 614. The vehicle, a 2018 Nissan Titan, sustained damage to the front end but was drivable. The moose was removed from the roadway and the two occupants received no injuries.
At 11:50 pm officers were alerted to a second MVC involving a moose 20km west of Marathon on Highway 17. The vehicle, a 2014 BMW X12 sustained major damage and needed to be towed from the scene. The two occupants received minor injuries, were transported to a local hospital and later released after being treated (photo above).
Officers are reporting seeing lots of moose that have wandered out near and onto the roadways in the area over the past couple of weeks. Black bears have also been seen in the area as well and pose as much of a hazard as moose when on the roadways.
Please use caution when driving and stay alert. Try not to drive at night or when visibility is poor due to fog or heavy rain.
Drive safe and stay alert.
Latest posts by BrenAdmin
(see all)