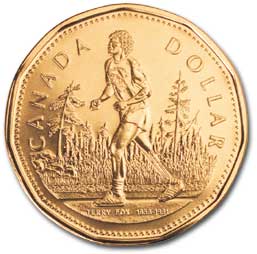 The Royal Canadian Mint today celebrated the legacy of Terry Fox by unveiling the Terry Fox one dollar commemorative circulation coin that will begin circulating on April 4, just in time for the 25th anniversary of the Marathon of Hope. Eleven million Terry Fox dollars will be produced. Another nine million coins will be issued in September 2005 to coincide with Terry Fox runs across Canada.
The iconic image of Terry Fox marks the first time that a circulation coin features a Canadian. The Terry Fox dollar coin will serve to keep alive the legacy of an ordinary man whose courage and determination has inspired generations of Canadians for 25 years.
"Terry asked for one dollar from every Canadian in 1980, fittingly his image now graces this commemorative one-dollar circulation coin," said Darrell Fox, Terry's brother and National Director of the Terry Fox Foundation. "We are hopeful 30 million Canadians will pay tribute to Terry in this anniversary year by raising the equivalent of one "Terry" dollar from each and every citizen."
"Canadians everywhere have been inspired by Terry Fox," said Minister John McCallum, Minister of National Revenue and Minister responsible for the Royal Canadian Mint. "I am proud the Royal Canadian Mint chose this unique individual to feature as the first Canadian on a circulation coin."
Terry Fox began his Marathon of Hope run in St. John's, Newfoundland on April 12, 1980. For 143 days Terry ran the equivalent of a marathon (42 kilometres / 26 miles) every day. His strength and determination turned an otherwise ordinary teenager into a national hero and launch an ongoing campaign that has raised more than $350 million dollars for cancer research.
"Terry Fox holds a unique place in the heart of this nation. His achievements are a testament to the belief that ordinary Canadians, armed with courage, conviction, and a dream, can accomplish truly extraordinary things," said David C. Dingwall, President and CEO of the Royal Canadian Mint. "In that spirit, the one dollar coin will help us all remember how an extraordinary man came to embody the Canadian spirit."
The Royal Canadian Mint has committed to supporting the Terry Fox Foundation through a donation of $20,000. In addition, the Mint will hold coins exchanges at the unveiling and at a special ceremony on April 12 in St. John's Newfoundland. Attendees are invited to exchange a dollar for a Terry Fox dollar, and donate a second dollar to the Terry Fox Foundation. 20,000 coins will be available at each exchange event.
Terry Fox's image is featured on the reverse of the coin and was designed by Mint Engraver, Stan Witten. The obverse features the portrait of Her Majesty Queen Elizabeth II by Susanna Blunt. The coin was conceived in collaboration with the Terry Fox Foundation and the Fox family and was designed to reflect Terry Fox, both the man, and his vision. The detail on his face shows Terry's determination and anguish as he ran the equivalent of a full marathon daily across Canadian terrain. He is also wearing the t-shirt he wore for most of his run – emblazoned with the words Marathon of Hope.
The background on the coin is representative of the Northern Ontario route he took along the shore of Lake Superior, featuring the landscape of the Canadian Shield that includes a white pine and stunted black spruce trees.
20,000 Official First Day Terry Fox coins are now available for $14.95 as well as specially wrapped Terry Fox Circulation Rolls sold for $39.95 (face value, $25). Both products can be purchased through our web site, www.mint.ca, by calling our toll-free line 1 800 267-1871 or through our boutiques in Winnipeg and Ottawa. Terry Fox Coin Product revenues do not generate a profit for the Royal Canadian Mint.
About The Royal Canadian Mint
The Royal Canadian Mint, an ISO 9001-2000 certified company, is the Crown Corporation responsible for the minting and distribution of Canada's circulation coins. In operation since 1908, the Royal Canadian Mint is recognized as one of the largest and most versatile mints in the world, offering a wide range of specialized, high quality coinage products and related services on an international scale. For more information on the Royal Canadian Mint, its products and services, visit www.mint.ca.
About the Terry Fox Foundation
The Terry Fox Foundation strives to maintain the heroic efforts and integrity that Terry himself embodied. It is a grassroots organization that relies heavily on the generosity of the private sector to support its activities. There is one national, and nine provincial Terry Fox Foundation offices in Canada. Currently, 87 cents of every dollar raised goes to fund cancer research. For more information, visit www.terryfoxrun.org.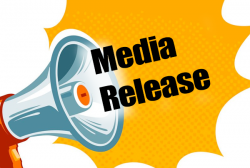 Latest posts by This Media Release
(see all)