The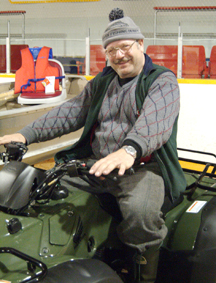 is over, the prizes awarded, and most of the fisherfolk headed out right away trying to stay ahead of the storm that Environment Canada had predicting.
The Winner of the Largest Lake Trout was Mr. Danny Lacasse of Wawa with an 8.52 pound fish caught from Wawa Lake. His reward for catching the largest lake trout was a Honda TRX 350FM5 4×4 ATV (Chapleau Auto Parts). Second was Rick D'Archangelo of Sault Ste. Marie, ON with an 8.24 pound fish from Wawa Lake, with third place taken by Andy Eddy of Sault Ste. Marie, On with a 7.62 pound fish from Manitouwik Lake.
The First Place winner for Whitefish was Mr. Russell White of Sault Ste. Marie, MI with a 5.12 pounder. Second Place was Pete Magi of Wawa with an 4.94 pounder, and third was taken by Tania Coe with her 4.64 pound whitefish.
Friday Night Door Prizes:
Honda TRX 350 4×4 by Corey Brown
Tundra Snowmobile by Jean-Guy Dumouchel
Saturday Night Door Prizes:
Honda TRX 350 4×4 by Bob Depatire
Tundra Snowmobile by Pete Domich
"Early Bird Prizes" – Entries received by January 14, 2005
1. 12′ Mirrocraft & 8 h.p. Johnson by Sandy Provenzano
2. Sleigh (donated by Weyerhaeuser) by Mario Scarpino
3. Sleigh (donated by Weyerhaeuser) by Todd Burch
Final Standings – Top 15 Fish

Whitefish:
1. Russell White (SSM, MI) – 5.12*
2. Pete Magi (Wawa) – 4.94*
3. Tania Coe (Wawa) – 4.64*
4. Curtis White (SSM, MI) – 4.53*
5. Kornel Kallo (Wawa) – 4.48*
6. Daniel White (SSM, MI) – 4.06*
7. Bonnie White (SSM, MI) – 3.99
8. Ron Archambeault (Wawa) – 3.68
9. Sandy Provenzano (SSM, ON) – 3.57
10. Jamie Robinson (Wawa) – 3.57
11. Pete Smith (Wawa) – 3.48
12. Dale Smith (Wawa) – 3.38
13. Joe Giuliani (SSM, ON) – 3.37
14. Jeffrey Smith (Wawa) – 3.34
15. Cathy Cyr (Wawa) – 3.06
* (standing didn't change from Saturday evenings results)
Lake Trout
1. Danny Lacasse (Wawa) – 8.52
2. Rick D'Archangelo (SSM, ON) 8.24
3. Andy Eddy (SSM, ON) 7.62
4. Donald Seymour (Dubreuilville) – 6.55
5. Gord Strachan (SSM, ON) 6.26
6. Al Colette (SSM, ON) – 6.07
7. Rick Tyo (Houghton Lake, MI) – 5.98
8. Donald Garton (Iron Bridge, ON) – 5.73
9. Hannu Noponen (Thunder Bay) – 5.65
10. Brent Hermiston (SSM, ON) – 5.57
11. Doug Digby (SSM, ON) – 5.49
12. Kay Beemer (Iron Bridge, ON) – 5.44
13. Gary Freeland (Brechin, ON) – 5.36
14. Justin Nichols (Grand Rapids, MI) – 5.35
15. Barry Matechuk (Wawa) – 5.2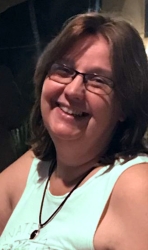 Latest posts by Brenda Stockton
(see all)