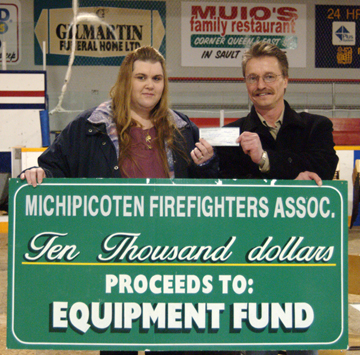 The Michipicoten Volunteer Firefighters Association held their "Annual Cash Draw" at the Wawa Ice Fishing Derby, late Sunday afternoon. In total there are 5 draws for $1000, and a grand prize of $10,000 with each ticket bought re-entered for each draw.
At the Derby, the three $1000 winners were James Hosegod of Thunder Bay, Gord Lesarge of Marathon, Gino Bernatchez of Dubreuilville, with the winner of the $10,000 Grand Prize was Shelley Knee of Wawa.
In conversation with Shelley she explained that she really had no plans for the money, she was still in a state of shock. Craig Spooner of the volunteer fire department presented Shelley with her cheque. Proceeds from the ticket sales will be used to purchase equipment for the volunteer fire department.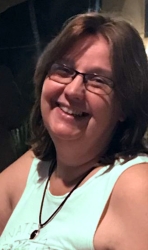 Latest posts by Brenda Stockton
(see all)