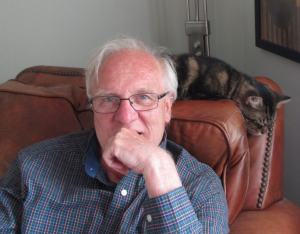 At the age of 76, Michael Joseph Devine passed away peacefully in London, Ontario, on September 1, 2023, from complications arising from Parkinson's Disease. He was the loving father of Michaela Altenburg of London and cherished grandfather of Morgan, Willem, and Janek, and the dear brother of Donna, Shaun, and Patrick Devine. He was predeceased by his sister Penny Oglow and by his parents Helen and Walter Devine of Wawa, Ontario.
Michael's life was enriched by his love of music and his deep and enduring interest in mathematics, science, poetry and philosophy. Right up until the end, he never wavered in his passionate pursuit of knowledge. Dear to his heart as well were his two cats, Butterbean and Amber. They brought him so much joy.
Michael will be greatly missed by his family and by the many friends he made and kept throughout his life.
The cremation took place in London on September 5. A gravestone erected in Michael's memory is located in the Woodland Cemetery in Wawa, Ontario. Online condolences, memories, and photographs can be shared on the A. Millard George Funeral Home website at www.amgfh.com.
Anyone