On Wednesday, the final report of the Federal Electoral Boundaries Commission for the Province of Ontario was tabled in the House of Commons. Despite clear objections regarding representation in the North from the NDP and Liberals, electoral districts in Northern Ontario will be reduced, from ten to nine, with those districts set to become significantly larger. The Conservative party provided a dissenting report, agreeing that the residents of Northern Ontario should lose a voice advocating on the issues that matter in Ottawa.
"We fought hard, made our voices heard at public hearings and in committee, and yet the Federal Electoral Boundaries Commission refused to maintain ten electoral districts in the North," said Carol Hughes, MP for Algoma-Manitoulin-Kapuskasing. "The unfortunate reality is that this new electoral map will mean less representation for Northern Ontarians, more challenges for MPs to represent their riding and a reduced voice in Parliament. It's disappointing that we didn't have unanimity in opposing this cut from all parties."
Algoma-Manitoulin-Kapuskasing is the riding which will be affected the most, as it is effectively being carved and divided between the following ridings: Sudbury East-Manitoulin-Nickel Belt, Sault Ste. Marie-Algoma, and Kapuskasing-Timmins-Mushkegowuk. However, it should be noted that the Commission has recommended that Parliament address the number of electoral districts in Northern Ontario.
"Let's be clear, this isn't over," said Charlie Angus, MP for Timmins-James Bay. "If the Commission is recommending an act of Parliament to keep these ridings in the North, then that's where our next battle will be."
"It is quite odd that not a single Conservative MP from Northern Ontario bothered to show up at Standing Committee on Procedures and House Affairs (PROC) to fight for representation in their own backyard, but reading the Conservative's Dissenting Report from the PROC Committee, it's clear that Pierre Poilievre and the Conservative Party don't care about the North losing representation," said Angus.  "Their Dissenting Report says 'Respectfully, we submit that no changes should be made to the Commission's final proposal for Northern Ontario ridings.' There's nothing respectful about not showing up to fight for the people of Northern Ontario."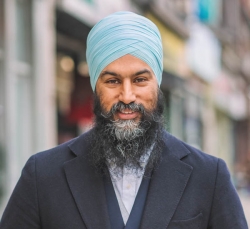 Latest posts by New Democratic Party
(see all)