Nov 28, 2022 at 07:56
Weather:
Today – Cloudy. Wind up to 15 km/h. High -2. Wind chill -10 this morning and -4 this afternoon.
Tonight – Cloudy. Periods of snow beginning this evening then changing to periods of rain mixed with snow overnight. Snowfall amount 2 to 4 cm. Wind becoming southeast 20 km/h late this evening. Low -3. Wind chill -9 this evening.
Environment Canada is forcasting that the stretch between Wawa and Sault Ste. Marie may receive between 10-20cm of snow mid-week (graphic to right).
News Tidbits:
Canada's hopes in the World Cup were dashed after Canada took the first goal in the match against Croatia, only to lose in the end. Alphonso Davies scored that historic first goal.
Alamos Gold, CFO Jamie Porter will join a fireside chat moderated by analyst Trevor Turnbull at the 24th annual Scotiabank GBM Mining Conference on November 30th.
Sad to hear that Academy Award winner Irene Cara died in her Florida home at the age of 63. She was best known for singing the theme songs for 'Fame' and 'Flashdance'.
Federal Employment Minister Carla Qualtrough announced on Friday that the government is extending employment insurance sickness benefits to 26 weeks, up from 15 weeks.
Congratulations to Roland Crevier and his uncle, Wayne Bellamy who won the November 50/50 draw of $580,238.
Provincial Annoucements:
Lisa Thompson, Minister of Agriculture, Food and Rural Affairs, will make an announcement on delivering high-speed internet service to Huron County in Gorrie at 10 a.m.
Monte McNaughton, Minister of Labour, Immigration, Training and Skills Development, will be joined by Dave Cassidy, President of Unifor Local 444, to make an announcement about supports for auto workers in Windsor at 10:30 a.m.
Paul Calandra, Minister of Long-Term Care, to make an announcement at 11 a.m. in Timmins.
Sylvia Jones, Deputy Premier and Minister of Health, to make an announcement at 12 Noon in Ottawa.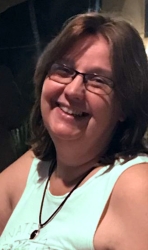 Latest posts by Brenda Stockton
(see all)