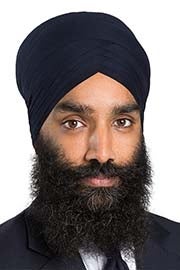 Gurratan Singh, the NDP critic for the Attorney General, said Premier Doug Ford is not only failing to take immediate action in long-term care, but by establishing a backroom premier's commission that fails to do what a public inquiry must, he's allowing long-standing problems to continue indefinitely.
"Over 1,840 people have died in long-term care during this pandemic. Those are our parents, our grandparents and the builders of this province. The first thing the Ford government must do is immediately fix the things we already know are wrong to give those in care better quality of life, and better protection," said Singh.
"We need to hire thousands of PSWs, make their jobs full time, and pay them better. We need to have a legislated minimum standard staffing level of four hours of hands on care per day per resident. We need more staff training, and the end of the use of temp agencies to staff care homes."
Singh said that beyond that, it's clearer than ever before that families need a full public inquiry, and not a premier's commission, to look into the problems in long-term care that have been growing for many years.
According to the terms of reference released Wednesday, much of the commission can be conducted behind closed doors, in back rooms and without the families of those who died. The NDP's specific concerns include:
The scope is too narrow. The commission can only examine COVID-19 and not the many years of problems that came before it; and the commission isn't mandated to examine the role of profit-making corporations running nursing facilities, as opposed to public and not-for-profit homes.
Ford is allowing commission meetings and hearings to be private, behind closed doors.
Ford is giving confidentiality rights to some documents that come before the commission.
Ford's terms of reference don't appear to give families standing — the right to stand up and to be heard. Instead, the commissioner will pick and choose who to hear from.
It's non-binding and Ford wouldn't commit to implement any of its recommendations.

Latest posts by Ontario NDP
(see all)