It seems to be an unfortunate sign of the times that almost all of the news people are exposed to is, to be quite frank, of an extremely negative nature. Some like to put the blame on media, but in my opinion, that's simply too broad of a paintbrush stroke. Yes, media reports a steady stream of disconcerting news, but maybe that's because life is just like that now. The world has seen tough times before and, well … we are still here and going strong.
Last week I was happy to share with readers that despite the dark days we seem to be going through as a province with Doug Ford at the helm, there are some glimmers of hope in that people are seeing the benefits of coming together to stand up to the Conservatives. The People of Ontario collectively have the answers to what is best for us all, and not just what's best for the rich and powerful. Lately, it seems that the People of Ontario are getting on their feet and finding their voices to make themselves heard. That's what democracy is about.
Recently during an informal discussion with some of my NDP colleagues, we were reviewing the current state of affairs in Ontario and where we seem to be headed as a party. During the debate we were reminded of a statement Andrea Horwath made at our caucus retreat back in early February. Andrea told us that at this point in time when Ontario is reeling from a seemingly endless list of devastating cuts, the job of the Official Opposition is more important than at any other time.
"People are counting on us now, more than ever," she told us. "In this session, not only are we going to resist when Doug Ford tries to drag us backwards, we are going to keep pushing forward. We're not going to just oppose, we're going to propose. We are going to keep sharing our vision of hope and positive change. We're going to remind folks that they deserve more from the government – not less."
Ontarians are concerned about the care and safety of our senior family members. We have heard of so many stories of crowded senior facilities with outrageous patient/care worker ratios such as 30 residents in a wing with only 2 workers for an entire shift. When residents tell the workers they need assistance to go to the washroom, the workers say it will take over an hour before they can get to them. Fallen residents lay forever waiting in pain for help to get up. Violent incidents in which residents attack one another or attack staff is on the rise.
Now as a result of the government's continuous failure to act, New Democrats have put forward bills that propose responsible legislation that would remediate the situations. MPP Peggy Sattler presented a bill that would close a loophole in government oversight of home care services delivered by for-profit homes. If passed, Sattler's bill would better protect the safety of patients. If passed, the bill would make the Minister of Health and Long-Term Care responsible for oversight of home care clinics, including those offering nursing, occupational therapy, social work, speech-language pathology and dietetics. The bill would also mandate local health units to conduct annual inspections of clinics, and require that patients be informed of their right to file complaints with their local health unit.
Days ago, NDP Health critic France Gélinas introduced a bill that would protect health care workers who blow the whistle on violence in their workplace. Unfortunately, in many Ontario hospitals and other health care settings, workplace violence is simply and frequently swept under the rug. Nurses and other health care workers are simply told by employers that physical and verbal harassment is just part of the job. Just do the job and keep it to yourself. This is wrong because violence should never be part of the job.
In an effort to bring about positive and effective action, New Democrats have proposed amending the Occupational Health and Safety Act to prevent any penalty of any kind from being used against an employee for speaking out about violence or harassment. The solution to the problem lies in increasing staffing, enhancing security, making personal alarms mandatory, building design changes, instituting zero-tolerance policies, simplified reporting, using the criminal justice system, better training, and flagging concerns when they arise. Workers should be encouraged to speak out when violence and harassment happens, instead of staying silent. Silence doesn't fix the problem, it perpetuates it.
Many people are absolutely flabbergasted to learn that not all Ontarians have access to 911 Emergency Service where they live. Many Northerners live in small, unorganized communities that do not have an elected municipal government. Without this, they cannot establish emergency services as there is no tax collection or administration. So, when fire strikes, someone is injured or sick or when police assistance is needed, residents or visitors to an area have to fumble around with phone books or the internet to find the number to call to see how, or even if…,  they can get help.
France Gélinas tabled the 9-1-1 Everywhere in Ontario Billto address this need in three ways. The first will do away with 1-800 numbers in case of emergency, and migrate to 911 everywhere in Ontario. Secondly, the bill will implement the Ontario Chief Coroner's recommendations to improve the 911 emergency system. Lastly, Bill 75 will give the Ombudsman the responsibility to investigate complaints against the 911 system.
New Democrats are supporting this bill knowing it will save lives. We firmly believe that no one should die because they don't have access to 911 service. We have the technology. All we need now is the will to make it available to everyone everywhere in the province that has a cell or landline phone service.
This province belongs to all of us. Not just the wealthy and not just the people who've got an inside track with Doug Ford. The above is just a sampling of what the NDP has been doing to make Ontario a better place for all people. We are committed to working in the best interest for Ontarians, both today and tomorrow. I truly believe that by working together we can not only stop Doug Ford from making things worse for Ontario, but we can bring our province together, and unite where he tries to divide.
As always, please feel free to contact my office about these issues, or any other provincial matters. You can reach my constituency office by email at [email protected]or by phone at 705-461-9710 or Toll free 1-800-831-1899.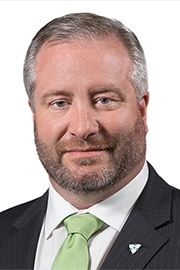 Latest posts by Mike Mantha
(see all)