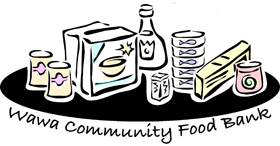 Community members have been very supportive of Wawa Community Food Bank through this month of November.
Naturally Superior Adventures concluded their annual Clean Out The Freezer dinner and graciously accepted donations for our local food bank.  In addition to a very generous monetary contribution, we also received many boxes of canned goods collected from dinners and musical entertainment over the summer season. Thank you to all the staff and to Judy Page and David Wells in particular.
For the fourth year, Northern Lights Ford has participated in the national Ford: We Scare Hunger campaign. On November 5th, two pickup trucks loaded with boxes of canned goods arrived at our door. Prior to this, the organizers, Lonna Rilley, and Danette Mathias, set up twice outside of Valu Mart to collect for their food drive. Three schools – Ecole Saint Joseph, Michipicoten High School, and Saint Joseph French Immersion School also contributed to this food drive. Thank you to the staff and students for your involvement and to Tracy and Trevor Laing of Algoma Highlands Blueberry Farm who donated bags of local potatoes.
Additionally, Danette and Lonna initiated a very successful Feminine Friday Challenge along with Algoma Health Unit, Lady Dunn Health Centre and Wawa Family Health Team to collect hygiene products. Customers and staff of Northern Lights Ford also made financial donations which were converted to even more food items. We cannot thank everyone involved enough for your energy and creativity in this endeavour.
We also thank Gerry Morin for the financial contribution from the sale of produce grown at the Ministry of Natural Resources Wellness Garden and Jan Metheany of Community Care Algoma for her personal donation. Altruism begins young in our communities as "Austin", a boy from Hawk Junction celebrating his fourth birthday, asked his friends to bring items for the Food Bank in lieu of presents!
Thank you as well to the many patrons of Valu Mart who contribute to the designated Food Bank cart and to the individual who purchased multiple bags of food on Saturday, November 10. Whoever you are, your generosity is appreciated. We are also grateful to the anonymous donors who fill the bin inside the doors of 96 Broadway Ave.
So many resourceful people help out in so many ways.
We must also state our appreciation for Wawa Family Health Team which continues to provide a nursing clinic for diabetes testing and dietary information once a month and another nursing clinic for blood pressure testing and health counseling.  Algoma Health Unit will conduct a Flu Clinic on Wednesday, November 21st from 2:00 to 4:00 pm which is open to all members of the public who wish to be immunized. Our clients are certainly well served by the medical community.
Finally – a reminder of the upcoming Feed The Need, our annual fundraiser which will be held at the Community Centre on Sunday, November 25, from 11:00 am to 3:00 pm.  For a canned food or financial donation, everyone will receive a hot dog from the Lakeview Hotel, hot or cold beverage from John's Valu Mart or Tim Horton's, and a cookie from SUBWAY. A ballot for a door prize from Canadian Tire, Styles by Iris Luke, Reiki and Meditation by Tina Smith, Wawa RV Resort and Campground, and Wagging Tails Kennel will be provided as well as a number of drinks coupons from Macs.
Local musicians will entertain through the afternoon and MNR mascots will be present.
Thank you to all who have attended this family-friendly event in the past. If you are wondering what to bring, we suggest any of soup, pasta sauce, pasta, vegetables, brown beans or canned meat, tuna or salmon. Another option might be a new pair of socks for men or women. All donations are gratefully received. We anticipate a great turn out to help us get through the winter ahead.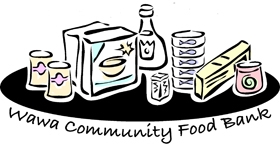 Latest posts by Wawa Community Food Bank
(see all)