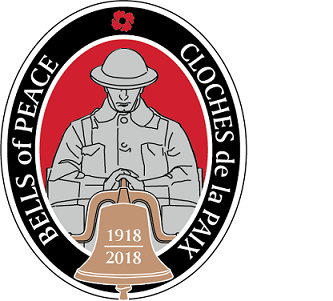 On November 11, at the going down of the sun, communities across Canada will mark the 100th anniversary of the end of the First World War with the ringing of 100 bells. The ringing of bells emulates the moment in 1918 when church bells across Europe tolled as four years of war had come to an end.
To engage youth in this significant initiative, children with the help of schools and youth organizations, are encouraged to research, locate and place flags on the graves of Canadian Veterans of the Great War.
Legion Branches and communities will host commemorative ceremonies and special activities to help Canada Remember. At sunset on November 11, the bells will ring at Parliament Hill, city halls, places of worship, military bases, Naval vessels and at ceremonies across the country to honour Canada's Veterans and commemorate the end of the First World War.
In Wawa, the United Church of Wawa hopes to be part of this celebration by playing Bells on our Carillon. Wawa-news has been advised that the bells will begin at 5 p.m. and that it should take about half an hour to hear the 100 bells play. There are only two other bells in the area: Wawa Baptist Church in the Mission, and the Bell at the Whitesands Cemetery in Michipicoten First Nation.
When you hear the bells toll on November 11,  we are all asked to take a moment to pause and remember all those who served and sacrificed.
We will remember them.
Latest posts by BrenAdmin (see all)