Apr 30, 2018 @ 07:45
One of the privileges of being an MPP is the many invitations I receive to attend festivals, special events, grand openings and program or funding announcements. Since Algoma-Manitoulin covers such a vast territory, there is no shortage of such opportunities.
Recently I was in Wikwemikong for the Indigenous Agriculture Gathering for Earth Day. I was pleased to join the community in announcing a $75,000 seed grant for Wikwemikong's Foodshare Program on behalf of the Ontario Trillium Foundation. Foodshare is an outstanding initiative which is designed to encourage and assist community members to begin growing their own food locally. The idea of sustainable "live on the land" programs is that communities take on the responsibility of caring for themselves and others. And it is really catching on. I have attended several such announcements and grand openings this year. Helping people to be self-sufficient and help others sends powerful and empowering messages.
This philosophy of caring for one another is a cornerstone of the NDP. For example, just this week Andrea Horwath focused on pushing the Liberals to adopt her Private Member's Bill, the Time to Care Act. This bill successfully passed second reading this week and will be sent on to the committee for review. The bill had been previously introduced but died when Wynne recklessly prorogued the Legislature. Andrea reintroduced the bill, saying that those in care shouldn't have to wait for the election after which our party will follow through on this.
The Time to Care Act will begin to undo the years of damage that the Liberals and Conservatives have done to the province's long-term care system. It will require an established minimum of four hours of nursing and personal support care for every individual in a long-term care home. Today, there are no minimum standards.
Too often, people arrive for a visit with a loved one only to find that they haven't been given the help they need to get out of bed and get dressed. Or worse, they find unexplained bruises. Decades of damage by the Conservative and Liberal governments have left front-line staff run off their feet, and left residents without protections for their dignity, health or even their overall safety. It's time to make some major changes for the better for seniors, and everyone in care.
New Democrats are committed to ensuring that every long-term care resident gets the hands-on attention they need. With a guarantee of at least four hours of care every day, our parents and grandparents will live healthier, happier, more dignified lives. Families across the province will feel less stress and worry, knowing that their loved ones are finally receiving the care they deserve. As well, front-line health care workers will have the Time to Care that they need to provide the quality care they want to deliver to residents.
The Auditor General recently released his report that condemned the government for hiding from the public the true costs of their $40 billion hydro borrowing scheme. Ontario's families and businesses know they're paying too much for hydro. They feel it every month when they open their hydro bill.  The Auditor General reported that the Liberal hydro plan will drive up bills, yet again – as a result of a bogus accounting scheme.  Not only will the Liberal's hydro borrowing scheme not lower bills – it will actually add $40 billion in hydro debt and interest onto bills, causing bills to resume climbing right after the election, rising by more than 70% over the next ten years.
Also, anyone who pays a hydro bill cannot afford Doug Ford. Mr. Ford has no plan to reduce hydro bills, and opposes public control of our hydro system. He will just continue the Liberal's hydro borrowing scheme. His threats to 'leave no stone unturned' when it comes to privatization means that the rest of our electricity system may be sold off too, if we let him at it.
Do you really think Kathleen Wynne's record or Doug Ford's privatization plans reflect an attitude of caring for regular people and small business operators in this province?
New Democrats have a plan to cut hydro bills by as much as 30 per cent, and keep them down. We'll return Hydro One to public ownership and control, ensuring it serves the public interest, not private investors.  We will rein in Ontario's wasteful oversupply of overpriced, privatized hydro. We will renegotiate, cancel, or simply not renew bad private power contracts. New Democrats will start lowering bills right away by fixing unfair delivery costs; ending mandatory Time of Use rates; capping private profit margins, and returning real public oversight to our hydro system.
That's a plan that offers real change for the better for Ontarians. Now is the Time to Care.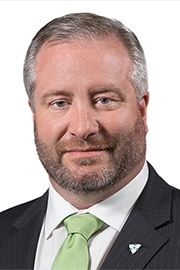 Latest posts by Mike Mantha
(see all)