Apr 28, 2018 @ 10:45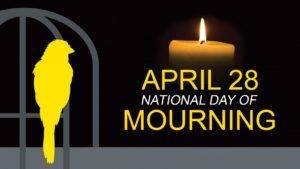 Today, the Canadian flag will fly at half-mast on Parliament Hill and on all federal government buildings. This, the 34th National Day of Mourning, originally known as Workers' Memorial Day was started in Sudbury, Ontario in 1984; and is dedicated to remembering those who have lost their lives, or suffered injury or illness on the job or due to a work-related tragedy.
The Minister of Labour spoke in the Ontario legislature today:
Speaker, this Saturday, April 28th, is a solemn day in Ontario. On that day – our province's Day of Mourning – we will pause to remember those workers who have been killed or injured on the job.
This weekend, people across this province will gather at ceremonies in city squares, union halls and various other locations. Flags will be lowered to half-mast to honour the loved ones, co-workers and friends we have lost.
Since the 1980s, the Ontario government has recognized the Day of Mourning. It is a day recognized in cities across Canada and in 80 countries around the world.
It reminds us, too, of our ongoing responsibilities. We must make sure workers are properly trained. We must redouble our efforts to protect workers and their families.
This is a day to re-dedicate ourselves to doing whatever it takes to prevent workplace fatalities, injuries and illnesses.
And a day to honour those we have lost and to acknowledge those who are injured.
They are our sons and daughters, our husbands and wives, and our friends and neighbours. We honour the skill, dedication and commitment they brought to their jobs everyday by making sure those who follow have safer workplaces.
Speaker, I am notified each and every time a worker is injured or killed in our province. This is the toughest part of my job. Every time I'm notified of a fatality, I know another family must hear that a loved one is not coming home from work.
Remember, when it comes to health and safety, we all have a part to play. It is everyone's responsibility.
I encourage everyone in Ontario to do their part to protect our province's greatest and most precious resource: our people and our workers. Working together, we will ensure that Ontario is one of the best and safest places to work in the world.
Some of you may be wearing yellow and black ribbons to commemorate the Day of Mourning this weekend. I encourage all of you to wear these ribbons. The black represents mourning; the yellow represents hope for a safer and brighter future, a future where there are no injuries, where everyone will be able to go home safe and sound and where lives are not at risk.
No job is worth a life. 
No job is worth an injury.
We know we cannot rest as long as one person is injured on the job.
Mr. Speaker, regulation and enforcement alone are not enough.
We have to change society's attitudes.
Workplace injuries must never be seen by some as just the "cost of doing business".
Safety in the workplace should be automatic; it should be as routine as buckling up your seatbelt in your car.
So we challenge employers, labour groups and workers to do their part in building a culture of safety in the workplace.
Speaker, as we honour the dead and injured today, we must remember that all of us here in this House also have a duty to advance workplace health and safety.
Today I rise as Minister of Labour, but I know I echo the sentiments of all members of this House, and past Ministers of Labour, across party lines, when I say that workplace deaths and injuries are tragic, unacceptable and preventable.
I also speak to you today as parents and as members of our community. 
We must each dedicate ourselves to doing what we can so that people who go to work every day, also return home every day safe and sound.
I urge each and every one of you to make workplace health and safety a personal priority and to not only speak to your constituents, but also your friends and family members.
We must work together to make sure our sons and daughters, our loved ones and the members of our communities know their rights and understand how to protect themselves from hazards at work.
Thank you, Speaker."
The most recent statistics from the Association of Workers' Compensation Boards of Canada (AWCBC) tell us that in 2016, 905 workplace deaths were recorded in Canada. Among those dead were 6 young workers aged 15-19; and another 20 workers aged 20-24.
In 2015, 852 workplace deaths were recorded in Canada; including 4 youths aged 15-19 and 11 aged 20-24. In Ontario, there were 4 fatalities in the mining industry, 32 critical injuries, 53 other injuries.

What these numbers don't reveal is just how many people are directly affected by these workplace tragedies. Each worker death and injury impacts loved ones, families, friends and coworkers, and emergency services (Mine Rescue, paramedics, etc) they leave behind, changing all of their lives forever.
This year is also the 26th Anniversary of the Westray Mine disaster. The Westray Mine was a  coal mine in Plymouth, Nova Scotia. An underground methane explosion on May 9, 1992, killed all 26 miners working underground at the time. Rescue efforts continued for a week, before admitting that there would be no survivors. A public inquiry took five years to investigate, publishing a report in late 1997, stating that mismanagement, ignoring miner's safety, poor oversight by government regulators led to the disaster.
The organizers of the National Day of Mourning state, "much as this is a day to remember the dead, it is also a call to protect the living and make work a place to thrive" as they continue to push for better legislation for workers.
Latest posts by BrenAdmin
(see all)