Feb 7, 2018 @ 07:59
Weather
| | |
| --- | --- |
| Today | Flurries ending near noon then mainly cloudy with 60 percent chance of flurries. Local amount 2 to 4 cm. High minus 10. |
| Tonight | Partly cloudy with 40 percent chance of flurries. Wind up to 15 km/h. Low minus 22. Wind chill minus 27. |
Roads
| | | | |
| --- | --- | --- | --- |
| | 2018-02-07 – early morning report | | |
| 101 | Timmins to Highway 144 | bare and dry road with bare and wet road sections. | 2018-02-07 2:21 |
| 101 | Highway 144 to Shawmere River | bare and dry road with bare and wet road sections. | 2018-02-07 2:22 |
| 101 | Shawmere River to Highway 651 | snow covered with bare and wet road, partly snow packed sections. | 2018-02-07 5:28 |
| 101 | Highway 651 to Wawa | snow covered with snow packed sections. | 2018-02-07 5:26 |
| | | | |
| 129 | Thessalon to Aubrey Falls | snow packed | 2018-02-07 5:22 |
| 129 | Aubrey Falls to Chapleau | partly snow packed with bare and wet road, snow covered, snow packed sections. | 2018-02-07 5:28 |
| | | | |
| 17 | Sault Saint Marie North Limits to Montreal River Bridge | bare and wet road with bare and dry road sections. | 2018-02-07 5:23 |
| 17 | Montreal River Bridge to Wawa | snow covered with snow packed sections. | 2018-02-07 5:26 |
| 17 | Wawa to Paint Lake Rd | snow covered with snow packed sections. | 2018-02-07 5:26 |
| 17 | Paint Lake Rd to Southwest of White River | partly snow covered with partly snow packed sections. | 2018-02-07 5:27 |
| | | | |
| 519 | Highway 17 – Dambrossio Township to Green Lake Road – Dunphy Township | bare and wet road with partly snow covered sections. | 2018-02-07 5:26 |
| | | | |
| 547 | Highway 101 to Hawk Junction | snow covered with snow packed sections. | 2018-02-07 5:26 |
| | | | |
| 631 | White River to Highway 11 | partly snow packed with bare and dry road, snow covered sections. | 2018-02-07 5:27 |
| | | | |
| 651 | Highway 101 to Missinabi | snow packed | 2018-02-07 5:28 |
News Tidbits – Roll up the Rim is back. Good luck to all you Tim's patrons.
Bob Yaciuk, Leader of the Trillium Party of Ontario, says that "though imitation is the finest form of flattery", he wishes, "a leadership contender of the PC's would steal some of the Trillium policies instead of just the slogan". The new Progressive Conservative slogan is "Something new. A different, forward-looking and positive conservative."
Wawa-news had 16,427 visitors last month! That is an average of 529 visitors daily!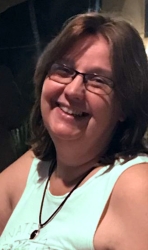 Latest posts by Brenda Stockton
(see all)