Jan 24, 2018 @ 08:44
Senator Lynn Beyak was jettisoned from the Conservative Caucus recently after spending the better part of a year defending intolerant statements aimed at First Nations – many of whom she ostensibly represents. The move was made after leadership in the Senate and the Commons provided numerous opportunities for her to back down from offensive claims about residential schools and Indigenous Canadians. The debacle has shown that Canada still has a long way to go in any efforts for reconciliation with indigenous communities.
Appointed to the Senate by Stephen Harper in 2013, Senator Beyak represents Ontario and comes from Northwestern Ontario. In the last year she has become infamous for statements about Canada's Residential School System that were critical of the reconciliation process. This attracted immediate wide-spread criticism including that of fellow Senator, Murray Sinclair, who served as Chair of the Truth and Reconciliation Commission, and NDP MP Romeo Saganash, who was taken from his family and forced into a residential school as a child.
Although public opinion was decidedly set against the Senator's sentiments, she fanned the flames again, suggesting Indigenous people should integrate into Canadian society by trading status cards for Canadian citizenship. The statement betrayed her lack of knowledge that Indigenous Canadians already have citizenship and is a good example of an individual being guided by opinion instead of facts.
While that might be acceptable to some, Canadians have every right to expect more of their politicians – especially when those individuals have been appointed to an institution that is referred to as a place for sober second thought. It's obvious that most Canadians hold far more moderate views than this Senator and the fact that her party is no longer willing to be associated with her fringe opinions proves that she had become a liability.
New Democrats continue to call for the Senator's resignation and for the government to seek her resignation as well. When the initial incident took place last March, Romeo Saganash said there is no room in parliament for such attitudes. He told the Senator that she is wrong and reminded her that the residential school system was put in place to strip Indigenous peoples of their culture, their language, their territory and their identity. He said no good can come from her claim that "some good things also happened" at residential schools.
Opportunities to back down were also provided outside of parliament. In July, she met with the Sioux Lookout Mayor's Committee for Truth and Reconciliation. Although they believed there was some movement towards the Senator having a better understanding of the issues at the time, that's now changed. The mayor is on record stating that the committee is disappointed with Senator Beyak. He points out that there were 9 residential schools in the part of Ontario she comes from and they thought she would have been more empathetic and understanding.
Because appointees don't have to retire until they reach 75 years of age, that means Senator Beyak can remain in office for another 8 years, but recent events prove that her opinions have already aged out of parliament. That said, the entire debacle has cast another negative spotlight on the Senate and adds strength to the arguments to reform or abolish this institution.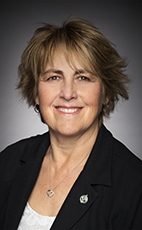 Latest posts by Carol Hughes
(see all)