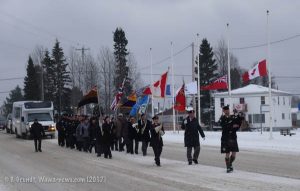 Blowy and snowy, the parade made its way down Broadway Avenue, Mission and Magpie Road to the Cenotaph. All the while they were piped by Scott McGillvary and escorted by officers from the Superior East Ontario Provincial Police Detachment.
There at Centoaph, wreaths were laid for Canada, the Province of Ontario, Silver Cross Mother, Municipality of Wawa, Legion Branch 429, and the Legion Ladies Auxiliary before the parade resumed and the ceremonies at the Michipicoten High School Auditorium.
Sergeant Bill Veldt

Canada Wreath

Murray Davidson

Province of Ontario Wreath

 Councillor Bill Chiasson

Municipality of Wawa

Silver Cross Mother
 Brenda Ouellette

Legion Ladies Auxilliary, Branch 429

Pat Harron

Royal Canadian Legion, Branch 429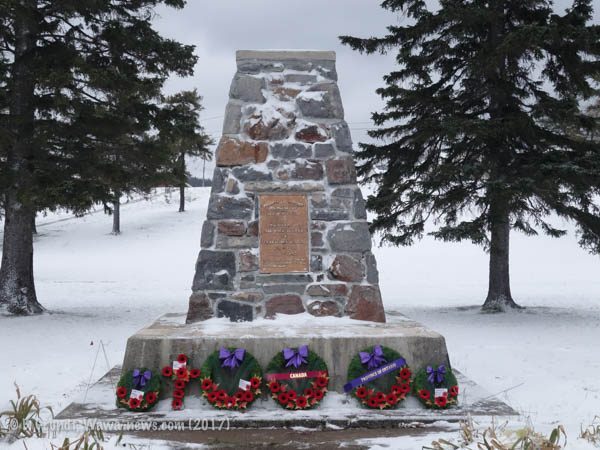 At the High School, the traditional Remembrance Day Ceremony was held. Master of Ceremonies, Comrade Larry Harvey asked for the Colours to be advanced and Oh Canada, and the Last Post to be sung before the two minutes of silence. Then Rouse was played, the Colours were deposited and the Colour Party retired.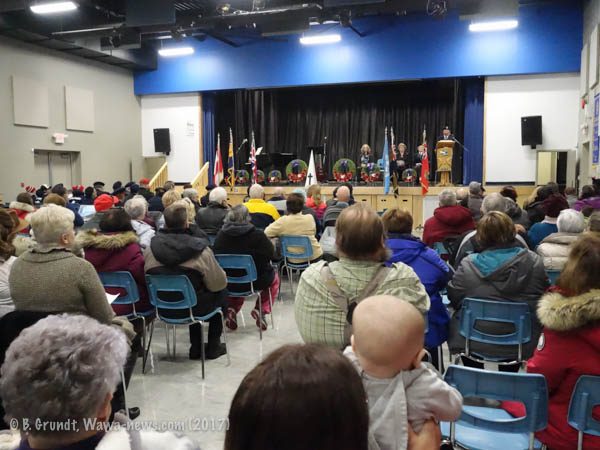 Comrade Harvey spoke "Today, from coast to coast; we remember those who have served, and those who continue to serve you and I. It is a sad and sombre day generally. And in Wawa, generally cool and snowy. But it is also a celebration of life, of those who lost their lives, and those whose lives were changed forever. I think that they would all be proud that we continue to pay our respect for their service and continue to remember them and their sacrifice. It is also a day to celebrate and recognize those who continue to serve us. I'd like to thank the veterans in this room, present. 'Thank You, all for your service. We appreciate each and every one of you'. After the applause, Harvey continued, "While we are all here, citizens of Wawa, I'd like to thank our first responders who look after us each and every day – Ontario Provincial Police, our Fire Department, our Ambulance Service, 'Thank You.". I would also like to thank our Piper, Scott McGilvary for coming to Wawa, each and every Remembrance Day."
He then asked for Scott to play during the wreath-laying ceremony.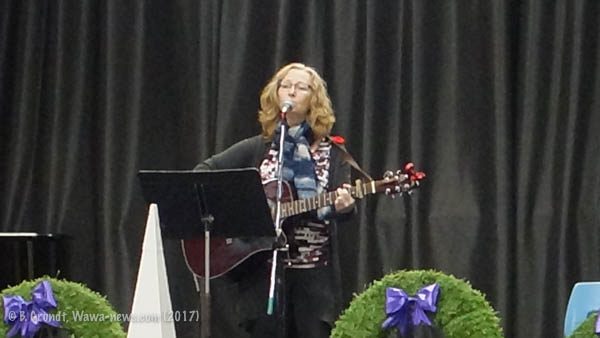 Once the wreaths were laid, and Paula Valois sang Bruce Robison's "Travelling Soldier";  and then Chaplain Lorna Chipkua offered a prayer and scripture reading. Another speech was given by Comrade Larry Harvey about the importance of the Legion to our and other communities.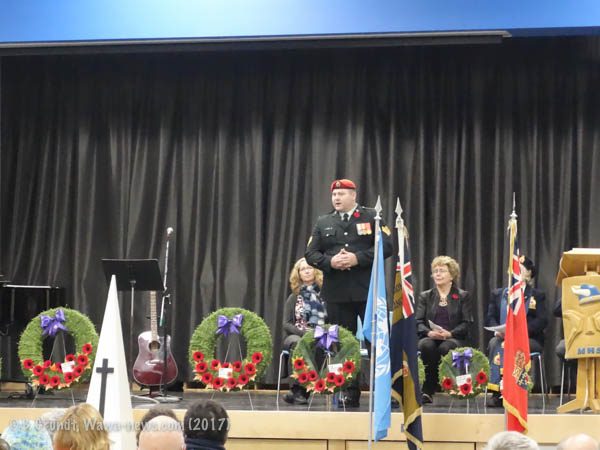 Invited to the stage, Sgt. Bill Veldt gave an impromptu speech. "I just want to say thank you as a community coming together on Remembrance Day. I really appreciate it."
After the ceremony was concluded, everyone was invited up to the Legion Hall for a potluck luncheon. Other members of the Legion went to the cemetery to lay wreaths at the headstones of veterans.