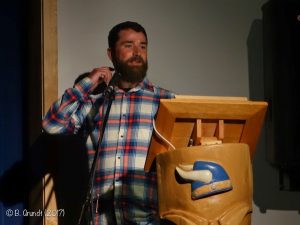 May 31, 2017 @ 20:53
Spring Fling was a great success for the organizing committee of the Wawa Music Festival. With short notice, about a month's worth, the venue and performers were figured out – and the show was on! M/C Brian Lachine introduced each act, and sharing 'some music, some jokes and some dance" with the crowd. This was a great prelude to the Wawa Music Festival (and fundraiser for) that will be held the Canada Day Weekend.
Opening for the evening was hometown fav, Richie Overton. He began with two original songs, 'Queen's Park' and what I think was 'Hot Summer Nites'; which were sneak peak selections from his upcoming CD, the fifth. Allison Pilon and Christina Bekintis sang a duet – Butterfly Song. Both ladies are very talented, Allison is also a pianist, and Christina is a painter. Magpie was next to take the stage, Lindsay and Adrian Boal on ukulele and guitar respectively. Damian 'Spiderfingerz' Binda was the first pianist. I have no idea what the song name was, but he kept the crowd entranced – startling everyone when he tipped over his bench and attacked the keyboard with great skill. Damian has also performed at the Post Office and Lion's Beach and is a treat when you can catch his impromptu performances. Dawn Charbonneau and Sabrina Levesque was joined by Adam Bertrand (Smokies and The Bear) and did two lovely songs. Then the flavor of the night took a little shift. Dancers from Defined Movement Dance took the stage in a group performance and a trio.
Before the intermission, M/C Lachine drew three names from the bin – lucky winners were Maria Reid, Ann-Celine McKinnon, and Doug Peterson. Each took home a gift bag. After the intermission, Matt Larrett (bass) and Brian Lachine (guitar) took centre stage with 'Come Together'. Then it was a triad of pianists beginning with Anna Lachine (pianist) and Madison Proulx (vocals) doing a duet; Harry Styles' 'Sign of the Times'. Matthew Schumacher performed two songs, and then Allison Pilon finished with her rendition of Pink Floyd's 'Hey You'. Then the mother-daughter duet, Paula and Marissa Valois took over with Nanci Griffith's 'Across the Great Divide, and Paula's father's favourite, 'Me and Bobby McGee'.
Adam, Dawn and Sabrina took the stage back to perform Shakley Graves' 'Dearly Departed'. Then Adam was joined by the rest of the group, Smokies and The Bear. Smokies and The Bear is a trio of forest firefighters that met in Wawa and share a love for great music and times. They toured their first album '24:1′ in November/December 2016. The trio played two songs for the attentive crowd. Finally, it was time for the last performance. Richie Overton and Matt Larrett played Soul Shine, a tribute to Gregg Allman; who passed away May 27th, 2017.
"Oh, it's better than sunshine,
It's better than moonshine,
Damn sure better than rain.
Yeah now people don't mind,
We all get this way sometimes,
Gotta let your soul shine, shine till the break of day."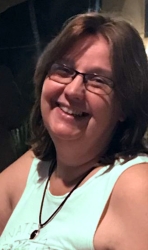 Latest posts by Brenda Stockton
(see all)