Feb 28, 2017 @ 18:41
An online petition with more than 550 signatures in support of Algoma Passenger Train Services has been presented in the House of Commons by Algoma-Manitoulin-Kapuskasing MP, Carol Hughes.
"For over a hundred years the Algoma Passenger Train offered safe, affordable, all-season access to the Algoma wilderness while supporting a strong tourism economy along its route.," said Hughes  "The train provided access for First Nations to their remote and traditional territory and was the only safe option available for 75% of the properties along the line."
The petition was sponsored by the Coalition for the Algoma Passenger Trains (CAPT) who created two online petitions as well as postcard and paper petition campaigns.  With concerns about safety, access, and the economic well-being of tourism in the region, CAPT has worked to have passenger service reinstated since it was discontinued in 2015.
"Since passenger services stopped, people have been stranded when their vehicles have been badly damaged on industrial roads that are not maintained for public use," said Hughes. Hughes also cited the social, economic, employment and tax-generating benefits of passenger services that were documented in a 2015 BDO Canada report. "That's why these petitioners are calling on the government to put the Algoma Passenger Train back in service and to ensure the mission of Transport Canada is fulfilled," said Hughes.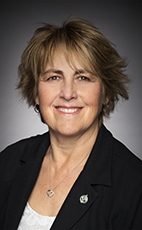 Latest posts by Carol Hughes
(see all)