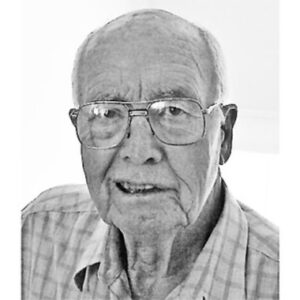 Passed away in his 90th year, April 25, 2014, surrounded by his family. Tory is survived by his beloved family, wife Isabel, children David (Jackie) Nelson BC, Carol Allard (Syl) Sault Ste. Marie and Betty Ann Lawson, Trail BC. Grand Children David Jr., Sita (Scott) Wallace, Jake (Mary) Trail BC, Mark, Mike Sault Ste. Marie, Nick Allard, Ottawa. Great Grandchildren, Aiden, Griffin Wallace, Henry Allard and Christina Lawson and many nieces and nephews.
From the time Tory arrived in Wawa, he knew this was where he wanted to be. He believed in working for the betterment of his new community. He was instrumental in building the first covered arena and later a better curling club. He believed in healthy activities for kids and volunteered to coach ball, hockey and was a Cub leader for many years.
He also volunteered for Legion #429, he was a World War II sailor with the RCNVR. He served on Corvette duty in the North Atlantic. He loved playing hockey, curling, ball, golf and fishing with his valued friends, many of whom have passed on before him. A year ago he moved to Sault Ste. Marie to be near his family.
A special thanks to Rita Mannerino N.P., Jenna and Brandi from Bay Shore for their care during the last year. Tory often said he wouldn't be doing as well without their care.
The care he received in the Intensive Care Unit was outstanding. Everyone we dealt with was exceptionally skilled and compassionate. Our family holds them in great respect.
A memorial will be held in Wawa at a future date.
In lieu of flowers, please donate to Wawa's Long Term Care Unit or to the Intensive Care Unit, Sault Ste. Marie, if you so desire.