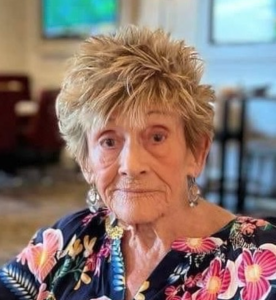 Mildred Marie Roberts, age 95, of Vernon, BC, passed away peacefully on October 27, 2023 at Vernon Jubilee Hospital. Her wit and laughter will be greatly missed.
Millie was born on September 24, 1928 in Fort Erie, ON, to Arthur and Mable Chudley. The oldest of 4 children, she lived through the Great Depression like most others: hungry but innovative. She loved to tell her stories of catching mice and letting them go in the theatre house, just to watch the ladies faint. During the war years, she would sneak out and attend dances with boys about to be shipped away to war.  A highlight of her young life was when she got to dance for King George VI and Queen Elizabeth in 1939 during their Canadian Royal Tour in Niagara Falls, ON. Millie remembered fondly the boys coming home from the war and the great celebrations of victory. It was during this time that she met her love, William Lawrence Roberts of Niagara Falls (predeceased). They had 6 children together before going their separate ways.
The majority of Millie's childbearing years were living in Wawa, Ontario where she formed deep connections, especially with her curling crew. She remained best friends to the very end with these cherished curling ladies and had many laughs recalling their antics: the bonspiels, parades, costumes and especially entertainment. The 'crew' entertained on stage by bearing bellies with giant top hats or by doing the Can-Can amongst other things. The "Along Came Jones" skit was a particular favorite, and they were invited to perform it for the local Sault Ste Marie TV station.
Millie moved to Vernon, BC in 1980 and started work at Noric House. She was known as the mischievous prankster and again, developed lasting friendships with the ladies. She earned the nickname "the old crow" from her barrage of crow calls at her best friend's cabin. She was known for dancing up a storm and loving her honey brown ales.
Millie is predeceased by her cherished baby brother Charlie Chudley and her deeply loved daughter, Patricia Anne Roberts.
Millie is survived by her two sons: William (Gail) Roberts of Sault Ste Marie, ON and Wayne (Karen, Predeceased) Roberts of Wiarton, ON; three daughters, Donna (Klaus) Roberts of Vernon, BC, Kathleen Roberts of Vernon, BC, and Susan (Paul) Hebelka of Peachtree City, GA. as well her two baby sisters, Dorothy(Bob) Hanna of Fort Erie, ON and Marion McIntosh of Cobourg, ON.
Millie is survived by 12 grandchildren, 17 great grandchildren and 1 great, great grandchild.
The silence she leaves behind is deafening.
Respecting Millie's wishes, there will be no formal service. There was a small family memorial.  Cremation has taken place with Cypress Funeral & Cremation Services, Vernon.
A Celebration of Life will be held for friends and family in August, 2024 in Vernon, BC.
Arrangements entrusted to Cypress Funeral & Cremation Services.