Angus Gold Inc. has announced the assay results from the final (15) fifteen holes of its winter 2023 drill program at the Golden Sky Project in Wawa, Ontario.
Nine of the fifteen holes were drilled as infill holes at 25-metre spacing within the historic resource area and were planned to test for the potential of high-grade ore shoots within the Dorset Gold Zone based on a newly interpreted geologic model.
Results from all nine (9) holes were successful at intersecting Dorset style Au mineralization within the Dorset Zone resource area and in some areas has significantly improved upon the historic drilling results, including GS-23-73, which intersected 2.8 g/t Au over 16.0 metres, including 5.1 g/t Au over 8.0 metres, and GS-23-72, which returned an interval of 2.2 g/t Au over 16.0 metres including 3.4 g/t Au over 6.0 metres and 5.6 g/t Au over 1.0 metre.
Additionally, three (3) holes and one (1) drillhole extension were completed on the Dorset East strike extension area with hole GS-23-77 intersecting 1.0g/t Au over 10.0 meters. Results from the winter drilling continue to help delineate new areas of Dorset-style mineralization.
Steve Burleton, Chief Executive Officer of Angus, states: "We are extremely pleased with the results from the winter 2023 drilling program. Our key objectives at the Dorset Zone continue to be strike extension and discovery of higher-grade zones within Dorset, and this program was successful on both counts. These results also demonstrate that we can improve upon the historic results from Dorset, which bodes well for future resource estimates. We are excited to begin our summer 2023 drilling program this week, which will see two drills focused on the BIF Gold Zone and some new regional exploration targets including the Splay Zone target to the south of the BIF. Our winter geophysical program was a tremendous success, generating numerous new targets in both the BIF and the Splay Zone. We now have almost full geophysical coverage across these areas and will begin the exciting task of making more gold discoveries. We look forward to the months ahead and will keep investors informed as results come in."
The ongoing drill program at Golden Sky focuses on two target areas within the property: the Dorset Gold Zone which hosts a gold resource; and the BIF Zone a new gold zone discovery in a large banded iron formation. The summer 2023 drilling program is scheduled to begin early June and will focus on the newly discovered BIF Zone while also testing parallel trends on the 6 kilometres of strike length of banded iron formation present at the Golden Sky property. In addition, Angus will be drilling new exploration targets that have been generated outside of the Dorset and BIF Zones courtesy of the extensive ground geophysics program that was completed earlier this year.
Selected drill results from the 15 holes at the Golden Sky drilling program are, as follows:
Hole Number
From (m)
To (m)
Length (m)
Au g/t
Area
GS-23-065
53.0
57.9
4.9
1.1
Dorset
GS-23-066
63.0
70.0
7.0
1.4
Dorset
including
64.0
67.0
3.0
2.4
GS-23-067
67.0
76.0
9.0
1.5
Dorset
including
68.0
73.0
5.0
2.0
including
68.0
71.0
3.0
2.5
GS-23-070
98.0
105.0
7.0
1.5
Dorset
including
99.0
100.0
1.0
2.4
including
102.0
103.0
1.0
2.4
GS-23-071
177.0
186.0
9.0
0.9
Dorset
including
178.0
184.0
6.0
1.2
GS-23-071
189.0
195.0
6.0
0.9
including
191.0
194.0
3.0
1.6
including
192.2
193.1
0.9
3.3
GS-23-072
171.0
187.0
16.0
2.2
Dorset
including
173.0
179.0
6.0
3.4
including
173.0
174.0
1.0
5.6
GS-23-073
181.0
197.0
16.0
2.8
Dorset
including
184.0
192.0
8.0
5.1
GS-23-077
83.0
93.0
10.0
1.0
Dorset East
(1) Assay results presented over core length. Additional drilling will be necessary to constrain the true width of the mineralized envelope of the gold system.
Figure 1: Surface Map – Dorset Gold Trend new drilling, Golden Sky Project Location Map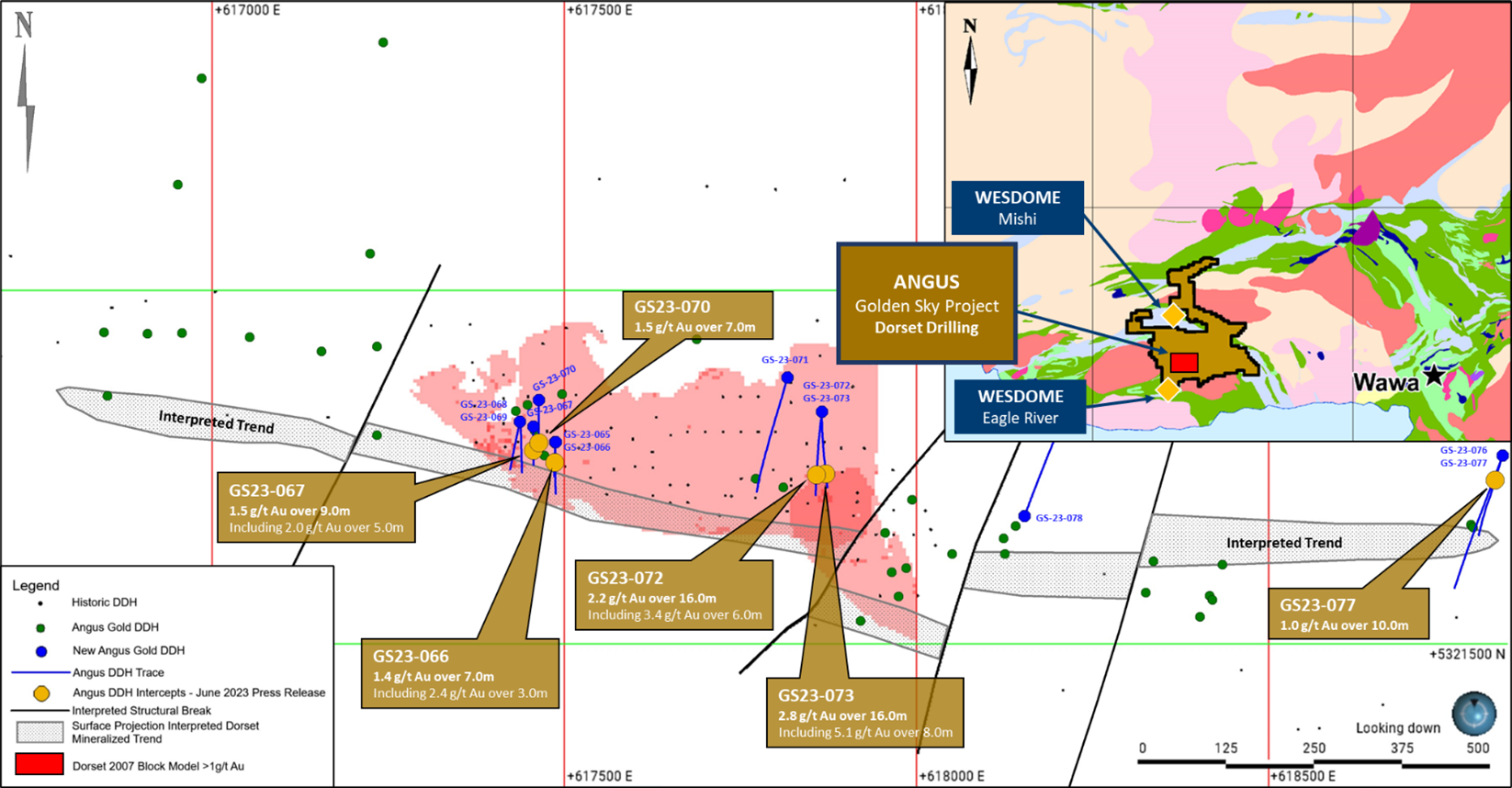 The Dorset Gold Zone contains a historic estimated indicated resource (using a 0.50 g/t Au cut-off) of 40,000 ounces grading 1.4 g/t Au, and an inferred resource of 180,000 ounces grading 1.2 g/t Au. Angus' 2023 winter drilling program was focused on testing strike length extension of the Dorset Zone while also targeting high-grade material within the historic resource area for a future resource update. The Dorset Zone lies within the Mishi Creek Deformation Zone ("MCDZ"). The MCDZ can be traced for at least 7 kilometres within the Golden Sky project and is extremely under explored.
The Golden Sky Project
The 100%-owned Golden Sky Project is located within the Mishibishu Lake Greenstone Belt of Northern Ontario, which is host to the high-grade Eagle River and the Mishi open-pit gold mines of Wesdome Gold Mines Ltd. ("Wesdome"). The Company's 234-square-kilometres land package is located approximately 50 kilometres west of the town of Wawa and is situated immediately between the two Wesdome mines. The project is host to the near-surface Dorset Gold Zone, which contains a historic estimated resource (using a 0.50 g/t Au cut-off) consisting of an indicated resource of 40,000 ounces of gold (780,000 tonnes grading 1.4 g/t Au), and an inferred resource of 180,000 ounces of gold (4,760,000 tonnes grading 1.2 g/t Au). For greater details on the Golden Sky Project, please refer to the NI 43-101 technical report for the Golden Sky Project entitled, "NI 43-101 Technical Report Wawa Property Ontario, Canada" dated February 18, 2020, and available on the Company's SEDAR profile.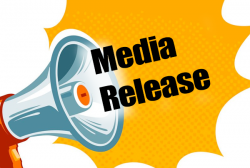 Latest posts by This Media Release
(see all)