Jun 7, 2023 at 07:56

Weather:

Today – Sunny. Hazy. Wind becoming north 20 km/h gusting to 40 this morning. High 19. UV index 7 or high.
Tonight – Clear. Hazy. Wind north 20 km/h gusting to 40 becoming light this evening. Low 8.
North East Forest Fire Update:
Wawa 3 remains at 6,810 hectares and is not yet under control. An Implementation Order was placed on June 4 restricting travel in areas where active fire and fire suppression are taking place

On June 4, Chapleau 3 was remapped to 700 hectares and is not under control.
At the time of this update, there are 31 active wildland fires across the Northeast Region. Of these, 21 are not yet under control, 5 are being held, 1 is being observed, and 4 are under control.
News Tidbits:
Did you know that the smoke particles from wildfires throughout Canada allow sunlight's longer wavelength colors like red and orange to get through while blocking the shorter wavelengths of yellow, blue and green. This is what is making some of the spectacular photos of the sun during sunrise and sunset.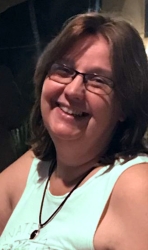 Latest posts by Brenda Stockton
(see all)