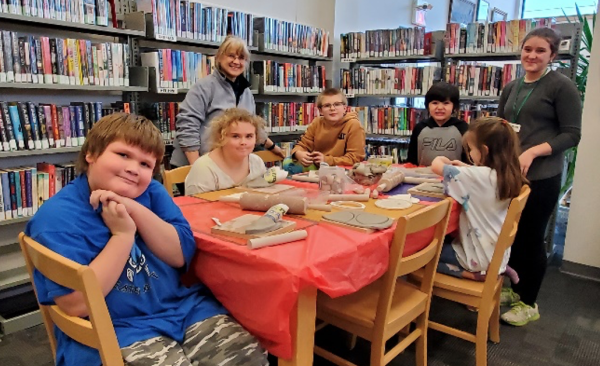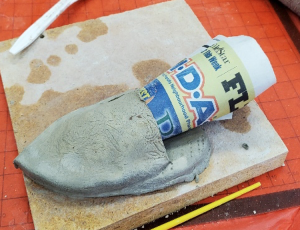 On January 26th Cindy Jozin from Green Cabin Pottery joined the Clay Club at the library as she led the children in making a very beautiful heart pocket! The kids were able to get their hands into the clay, rolling it out, wetting it down, using a shape cutter, using a patterned roller to decorate and then molding their pieces together to form a pocket. The kids had an awesome time and are looking forward to seeing their finished products.
BLIND DATE WITH A BOOK: Are you looking for a new author to enjoy? Stumped on what you want to read next?
Try a BLIND DATE WITH A BOOK! For the month of February, choose a wrapped book from our display (no peeking) and check out as usual. Unwrap your book at home and enjoy! Fill out the "Rate your Date" card to let us know what you thought of your blind date!
New books on the 7- Day Shelf this week are: "Clive Cussler The Sea Wolves" by Jack Du Brul, "Secluded Cabin Sleeps Six" by Lisa Unger, "A Sliver of Darkness" by C.J. Tudor and "The King The Life of Charles III" by Christopher Anderson.
En Français, nous avons "Le Prix de ma Liberté: Tome 2" par Nadège Roy.
New Movies on the Shelf are "Ticket to Paradise" starring Julia Roberts and George Clooney, "Black Adam" starring Dwayne Johnson, "Bullet Train" starring Brad Pitt and in Blu-Ray "Frozen Ground" starring Nicolas Cage and John Cusack.
Staff Pick of the Week is "The 6th Target" by James Patterson. From the book jacket:
When a horrifying attack leaves one of the four members of the Women's Murder Club struggling for her life, the others fight to keep a madman behind bars before anyone else is hurt.
And Lindsay Boxer and her new partner in the San Francisco police department run flat-out to stop a series of kidnappings that has electrified the city: children are being plucked off the streets together with their nannies–but the kidnappers aren't demanding ransom. Amid uncertainty and rising panic, Lindsay juggles the possibility of a new love with an unsolvable investigation, and the knowledge that one member of the club could be on the brink of death.
And just when everything appears momentarily under control, the case takes a terrifying turn, putting an entire city in lethal danger. Lindsay must make a choice she never dreamed she'd face–with no certainty that either outcome has more than a prayer of success.
Join us, Tuesday – Friday starting at 3:30pm for Stories and Crafts Club, Clay Club, Chess Club and Game Club and we will mix it up every now and then and throw in a STEAM Club. For more info visit the library or check out our facebook page WPL Afterschool. Indi has a lot of very cool and fun activities planned so check out the Wawa Public Library Afterschool Program!
Join us for Tot Time every Wednesday from 10:00 – 11:00 am. Our goal is to introduce children to the library as soon as possible and to foster a life-long love of reading and books. We have stories, music, toys and crafts.  We include activities that help children develop their motor skills and dexterity. Parents or caregivers are welcome to drop in and check it out!
Parents can sign up for Dolly Parton's Imagination Library by contacting the Wawa Public Library at 705-856-2244 ext. 290 or email us [email protected]  This wonderful program provides FREE books monthly for children ages 0-5!  Call or email the Wawa Public Library and sign up today.  Our local contact is Cathy Cannon and she can be reached 705-856-2250 or email at [email protected] Proudly sponsored by the Rotary Club of Wawa.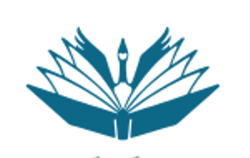 Latest posts by Wawa Public Library
(see all)