Rock Island is presenting Mimi O'Bonsawin in a house concert tonight. Mimi is a Northern Ontario born Roots Songstress who started performing and writing songs at a young age , putting out her first album in 2014. Mimi is heavily influenced by her roots and celebrates her Abénakis and French-Canadian heritage. She writes songs with the intention to give back and spread the word about the merge of those communities.
She has been nominated for two Northern Ontario Music and Film Awards, She has performed on countless stages including the prestigious Midem Festival in Cannes, France as well as Yonge and Dundas Square in Toronto and has shared the stage with the likes of Buffy Sainte-Marie , Crystal Shawanda  and many more. She recently got awarded Best Music Video and nominated for Best Songwriter at the Toronto Independent Music Awards .
Her soulful voice, rich stories and strong message spreads like wild fire. She has been picked up by CBC radio , Walmart and LCBO radio , Stingray and Galaxy streaming as well as other regional radio stations. Her song 'Stone Gaze' was placed in Showtime's Ray Donavon Tv Series ( E1S5) and other tracks from this record were featured on APTN's Mohawk Girls.
There is no dinner tonight, but Judy will have a "yummy blueberry dessert".
Directions to Naturally Superior Adventures/Rock Island: Turn west off Highway #17 (towards Lake Superior), at Camp High Falls (4 km south of Wawa) turning right when you arrive at the paved road of the Upper Michipicoten River Village. Turn right following the paved, then dirt road over the Silver Falls Bridge and the historic cemetery. Before going up the steep hill to the Michipicoten Bay Lookout, turn left immediately (after the Great Lakes Power hydro-station). Follow this road to their gate, where there is a large parking area and bus turn-around next to Government Beach. Just follow the signs!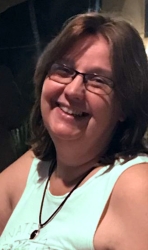 Latest posts by Brenda Stockton
(see all)