David Archibald, the Happiest Camper in Ontario is touring in a 30 park concert tour. He has written five sings to help celebrate Ontario Parks' 125th anniversary! David says "I'm thrilled to embark on this grand tour of 30 parks to help celebrate the 125th anniversary of Ontario Parks. It's a fantastic job! I will unleash five new songs including "The Happiest Camper in Ontario," as well as return to old favourites such as "Five Great Lakes," "Poison Ivy," and "The Ballad of Pirate Bill.""
Friday night he played Lake Superior Park, and Sunday night he played in Pancake Bay. Tomorrow night he makes a special presentation to play at Rock Island. Once again, Judy will be preparing a delicious meal before the concert.
Menu:
Garlic Bread
Caesar Salad
Chick Pea Salad with Lime Vinaigrette
Seasoned Porketta Roast
Baked Tortellini
Grilled Zucchini and Peppers
Blueberry Pie
Pecan Pie
Jello Poke Cake
Judy reminds all that Gluten Free, Vegan, and Vegetarian options are available when requested when you make your reservation. Dinner will be served at 6 p.m. Call 705-856-2939 to reserve your seat. Dinner is served at 6 p.m. and the House Concert will begin at 7:30 at a cost of $15 and a donation to the Wawa Food Bank is always appreciated! If you can't make dinner, you're still absolutely welcome at the concert.
---
Directions to Naturally Superior Adventures/Rock Island: Turn west off Highway #17 (towards Lake Superior), at Camp High Falls (4 km south of Wawa) turning right when you arrive at the paved road of the Upper Michipicoten River Village. Turn right following the paved, then dirt road over the Silver Falls Bridge and the historic cemetery. Before going up the steep hill to the Michipicoten Bay Lookout, turn left immediately (after the Great Lakes Power hydro-station). Follow this road to their gate, where there is a large parking area and bus turn-around next to Government Beach. Just follow the signs!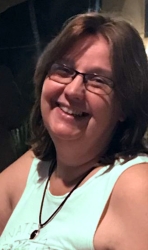 Latest posts by Brenda Stockton
(see all)