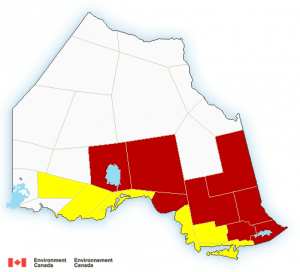 Aug 6, 2018 @ 02:34 – UPDATED OR ENDED BY 1:46 A.M. EDT.
5:08 PM EDT Sunday 05 August 2018
Severe thunderstorm warning in effect for:
Wawa – Pukaskwa Park
White River – Dubreuilville
At 5:08 p.m. EDT, Environment Canada meteorologists are tracking a severe thunderstorm capable of producing up to nickel size hail.
This severe thunderstorm is located 15 kilometres south of Heron Bay, moving northeast at 60 km/h.
Locations impacted include:
Pringle, Amwri, Trudeau and Mobert.
Take cover immediately, if threatening weather approaches. Large hail can damage property and cause injury. Lightning kills and injures Canadians every year. Remember, when thunder roars, go indoors!
Severe thunderstorm warnings are issued when imminent or occurring thunderstorms are likely to produce or are producing one or more of the following: large hail, damaging winds, torrential rainfall.
The Office of the Fire Marshal and Emergency Management recommends that you take cover immediately if threatening weather approaches.
Please continue to monitor alerts and forecasts issued by Environment Canada. To report severe weather, send an email to [email protected] or tweet reports using #ONStorm.
For more information:
http://www.emergencymanagementontario.ca/english/beprepared/beprepared.html.
This is a media release by the organization. If you would like to send Wawa-news.com a media release to be published, send it to Brenda Grundt, Editor/Publisher,
[email protected]
Latest posts by This Media Release (see all)