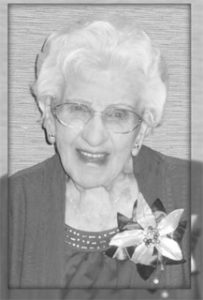 It is with heavy hearts, we announce the passing of Esther Hotchkiss at the Sault Area Hospital on Sunday July 8, 2018 in her 104th year. Devoted wife of the late Kenneth Hotchkiss. Cherished mother of Gloria Hotchkiss, Diane Adams (Gerald) and Ronald Hotchkiss. Treasured grandmother of Tony Roberts (Melanie), the late Lillian Roberts, David Roberts (Danielle), Barbara Ann Roberts, Emily Miller (Karl) and Colleen Adams Bishop (Paul Sharpe). Proud great-grandmother of Makayla, Emma, Jonah, Aidan, Nathan, Kirstin, Brittany, Frederick and Brennen.
Friends are invited to visit at the Arthur Funeral Home – Barton & Kiteley Chapel in Sault Ste. Marie on Friday, July 13, 2018, from 6 pm to 9 pm and on Saturday, July 14, 2018, from 12:30 pm to 1:30 pm. Funeral service to follow in the chapel at 2 pm. The Rev. Bruce McLeish officiating. Interment to follow at Maple Leaf Cemetery, Echo Bay.
Memorial contributions to the Echo Bay United Church, the Sault Ste. Marie Humane Society or a charity of your choice would be greatly appreciated.
Messages of condolence may be offered at www.arthurfuneralhome.com
Editor's Note: Esther and her husband, Ken owned and operated Silver Birch Cottages just north of Catfish Lake on Highway 17 in the mid 70's-80's.