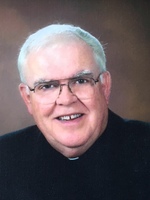 In a spirit of thanksgiving for a life of service to God and a sadness in the completion of his earthly journey by his loving family and friends we announce the peaceful passing of Msgr. John Caswell Sunday, July 1st, 2018 at Maison McCulloch Hospice.
Born in Smiths Falls and raised in his beloved North Bay, he was the son of John Sr. and Francoise (Acquin) Caswell both predeceased. Loving brother of William "Bill" Caswell (wife Mae, nee Dennis) both predeceased.
Forever loved by his family of nieces and nephews in Brampton: Dennis (wife Debbie and daughter Katherine), James (wife Wendy and children Amanda and William), Mary (husband Michael and daughter Madeline), Chris (wife Jane and children Corinne, Annie, and John), Corinne (husband Frank and children Grace, and Caswell James), and Frances (husband Andrew and children Alexander, Adam and Jenna).
Lovingly remembered and never-to-be forgotten by his Sudbury family: Molly Hancey, Melody and Charlie Henry, Roseanne and David Lyons and Gerry Lougheed Jr.
Msgr. Caswell studied at St. Michael's College in Toronto and St. Peter's Seminary in London. He was ordained on May 19th, 1962 in the Pro Cathedral in North Bay. His ministry began as an assistant at Precious Blood Church in Sault Ste. Marie.
Appointments:
1962 Assistant, Precious Blood, Sault
1962 Assistant, St. Monica's, Wawa
1962 Assistant, Pro-Cathedral, North Bay & Chancery Office
1963 Assistant, Pro-Cathedral and Ecc. Notary
1968 Assistant, Christ the King, Sudbury
1971 Pastor, Our Lady of Sorrows, Sturgeon Falls
1974 Assistant, St. Patrick's, Sudbury, Work in Communications for Sudbury Region
1975 Chaplain to Radar Base, Falconbridge and St. Bernadine of Siena Mission, Skead as Pastor
1986 Part-time assistant, Christ the King, Sudbury while remaining Pastor in Skead and Director of Cath-Com Productions until 2013
1987 Chaplain, Sudbury Irish Regiment (Militia)
1988 Pastor, St. Clement, Sudbury
2001 Pastor of West-End Parish Cluster (St. Clement, Our Lady of Perpetual Help, and St. Anthony) September 2001-June 2002
2002 Pastor, Christ the King Parish
2006 Retired as Pastor of Christ the King Parish but remained on with Communications-especially the weekly televised "Mass for Shut-Ins"- until 2012.
Msgr. John's various ministries brought Glory to God and enlightenment to His creation. He skated with the Flying Fathers, brought liturgy to the sick and shut-ins, enjoyed the camaraderie of the "men-in-black" gatherings, and on a daily basis followed Jesus' greatest commandment to love God and love your neighbour. He will be remembered for his wonderful wit and wisdom which will be cherished by all who knew him.
Msgr. Caswell spent a number of years in his retirement at Finlandia Village in Sudbury. Special thanks to the wonderful team of caregivers who took such good care of him during these last few years. You are all such professional and dedicated people. Special thanks also to the nurses and doctors at Health Sciences North (especially palliative care unit) who provided excellent care during his last three months in hospital.
A special thank you to the wonderful and loving staff at Maison McCulloch Hospice who took such great care of Monsignor Caswell during his final days.
In Monsignor's own words to one and all, "Thanks for the memories."
A Funeral Mass was held at Christ the King Church in Sudbury on Friday, July 6, 2018 at 10 am. Friends called at the church 2-5, 7-9 pm Thursday, with prayers at 7:30 pm.  Interment in the Priest's Plot at St. Mary's Cemetery, North Bay
In lieu of flowers donations to Maison McCulloch Hospice, St. Peter's Seminary, London or Finlandia Village SISU Foundation would be appreciated.
Arrangements entrusted to Lougheed Funeral Home.