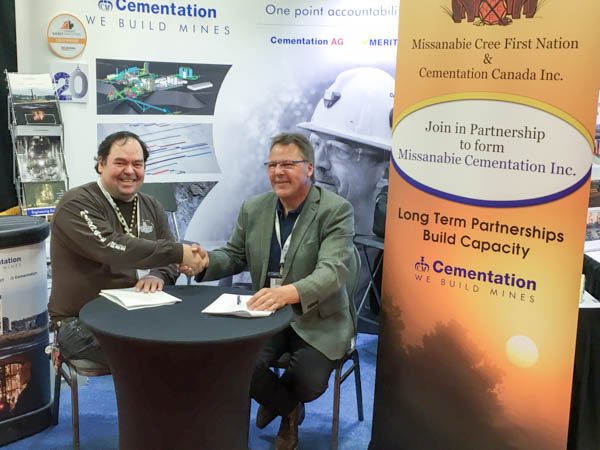 Cementation Canada and the Missanabie Cree First Nation community have signed a partnership agreement at the Mining Expo in Timmins, Ontario announcing Missanabie Cementation Inc.
"We are excited about our latest partnership with Cementation and combined we feel the groups can bring value to future mining projects here in northern Ontario throughout the traditional territory of the Missanabie Cree First Nation" says Chief Jason Gauthier, Missanabie Cree First Nation. Missanabie Cementation Inc. is a majority First Nations owned partnership focused on underground mine development opportunities in northern Ontario. "We feel this partnership between Cementation and the Missanabie Cree First Nation will be a strong first step towards capacity building including training and employment opportunities for the citizens of the Missanabie Cree First Nation resulting from the local mining resource industry. We anticipate future mine development in the area and the business opportunities this can bring to the partnership" says Eric Kohtakangas, Executive Vice President, Cementation Canada.
The Missanabie Cree region is located in northern Ontario west of Chapleau and north of Wawa, Ontario.
About Cementation:
Cementation is a mine and facilities contracting and engineering company. The Cementation group of companies delivers underground mine development and infrastructure as well as surface material handling and processing facilities solutions for mining projects worldwide. Cementation Canada Inc., Cementation USA Inc., Cementation AG and Merit Consultants International are part of the Murray & Roberts group of companies with operations around the world.
About Missanabie Cree First Nation:
Evidence and records suggest that by as early as the 1570s, members of the Missanabie Cree had settled in the areas surrounding present-day Missinaibi Lake, Dog Lake, Wabatongushi Lake, Oba Lake, and Esnagi Lake. According to Elders' testimony and anthropological evidence, the Missanabie Cree had utilized these lands from time immemorial to hunt, fish and trap for food, for ceremonial purposes, and to provide for the cultural, spiritual and economic well-being of their people.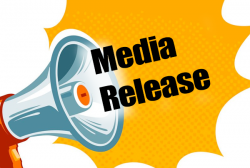 Latest posts by This Media Release
(see all)