Apr 16, 2018 @ 05:07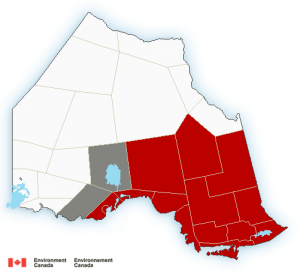 Today's Morning News is very early (5:07 a.m.) Road conditions on the MTO Website have not been updated since 9:31 p.m. yesterday. But I know a lot of Wawa-news readers travel for work.
Anecdotal reports are that the Dubreuilville Hwy (519) is snow-covered, low visibility but drivable (5:36 a.m.).
Weather – Environment Canada continues to warn of a Winter Storm Warning. "A major winter storm is expected. A slow-moving weather system approaching from southwest of the Great Lakes will bring a major winter storm conditions tonight through Monday night. Snow has moved over the entire area as expected, and will continue tonight through Monday. This winter storm will bring a widespread snowfall of 20 to 30 cm with it by Monday evening. Brisk northeast winds gusting to 50 km/h will whip up freshly fallen snow in exposed areas resulting in occasional blowing snow. Hazardous winter travelling conditions will continue tonight through Monday. Snow and blowing snow will slowly ease off Monday night as the winter storm moves away into Quebec."
Roads –
Northeastern
101
From Timmins to Highway 144
Partly snow covered
Good
No
2018-04-16 2:26
Snow covered
Partly ice covered
Northeastern
101
From Highway 144 to Shawmere River
Snow covered
Poor
Yes
2018-04-16 2:27
Snow packed
Northeastern
101
From Shawmere River to Highway 651
Snow covered
Poor
Yes
2018-04-15 21:34
Snow packed
Northeastern
101
From Highway 651 to Wawa
Snow covered
Fair
Yes
2018-04-15 21:33
Partly snow covered
Northeastern
129
From Thessalon to Aubrey Falls
Snow covered
Good
No
2018-04-15 21:26
Northeastern
129
From Aubrey Falls to Chapleau
Snow covered
Poor
Yes
2018-04-15 21:34
Snow packed
Northeastern
17
From Sault Saint Marie North Limits to Montreal River Bridge
Partly snow covered
Good
No
2018-04-15 21:31
Partly ice covered
Ice covered
Northeastern
17
From Wawa to Paint Lake Rd
Snow covered
Fair
Yes
2018-04-15 21:33
Partly snow covered
Northeastern
17
From Montreal River Bridge to Wawa
Snow covered
Fair
Yes
2018-04-15 21:33
Partly snow covered
Northeastern
17
From Paint Lake Rd to Southwest of White River
Bare and wet road
Poor
Yes
2018-04-15 22:29
Partly snow covered
Northeastern
519
From Highway 17 – Dambrossio Township to Green Lake Road – Dunphy Township
Snow covered
Fair
Yes
2018-04-15 21:33
Northeastern
547
From Highway 101 to Hawk Junction
Snow covered
Fair
Yes
2018-04-15 21:33
Partly snow covered
Northeastern
631
From White River to Highway 11
Bare and wet road
Poor
Yes
2018-04-15 22:29
Partly snow covered
Northeastern
651
From Highway 101 to Missinabi
Snow covered
Poor
Yes
2018-04-15 21:34
Snow packed
Latest posts by Brenda Grundt (see all)