Apr 15, 2018 @ 12:38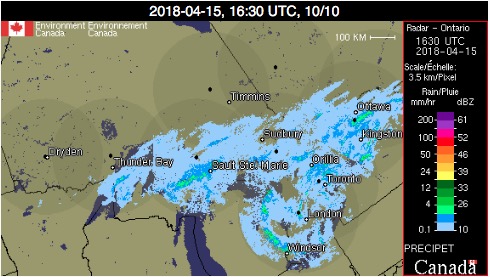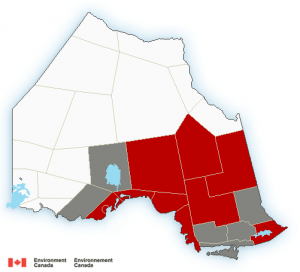 For the past several days, Environment Canada has been warning of a winter storm. Last night, severe freezing rain was falling around Birch Run, Michigan; and this morning, the Mackinac Bridge was closed to all high profile vehicles at 7: 30 a. m. due to winds blowing across the bridge surface in excess of 50 miles per hour. In Ontario, Saturday saw more than 500 collisions due to the weather, according to OPP Sgt. Kerry Schmidt. Environment Canada said the ice storm hitting parts of southern Ontario could be "historic," potentially downing trees and power lines and leading to widespread outages. Early this morning over 15,000 HydroOne customers were without power.
For our area, Environment Canada warns that aslow-moving weather system approaching from southwest of the Great Lakes is expected to bring winter storm conditions today through Monday night. Snow has begun in Sault Ste. Marie, according to a Wawa-news reader who is there. The winds that we have been experiencing over the past couple of days will continue with significant snowfall accumulations of 20 to 30 cm. The snow and wind may make for difficult travel conditions today through Monday.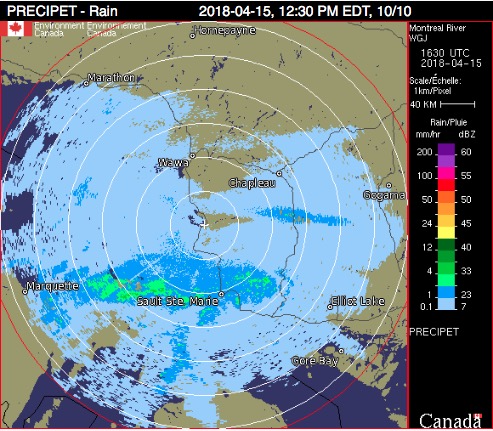 Environment Canada asks motorists to consider postponing non-essential travel until conditions improve.
Latest posts by Brenda Grundt (see all)