Mar 5, 2018 @ 14:41
NDP Health critic MPP France Gélinas again took Kathleen Wynne's Liberal government to task this morning about the hospital overcrowding and hallway medicine crisis – this time taking aim at the capacity issues at the Children's Hospital of Eastern Ontario (CHEO).
Last week CHEO announced historic overcrowding, saying that the hospital ran over 100 per cent capacity in January and February of this year and that so far in 2018, it has been forced to turn away or transfer 15 children, including 4 babies.
"CHEO's Chief of Staff said that it's often the sickest kids who are forced to move because of the overcrowding crisis," said Gélinas. "I can't imagine being a new mom and hearing the news that my child is sick, let alone being told that one of the only two hospitals in Ontario that specializes in treating children doesn't have the space to care for my baby.  It's devastating."
In February, CHEO's emergency department had its busiest month on record. Every day, the hospital saw 249 children in the ER. One day their front-line professionals cared for 303 sick children. CHEO's Chief of Emergency Medicine said the hospital was at peak staffing, but despite that, they are overwhelmed. CHEO is certainly not the only hospital in Ontario or even in Ottawa that has struggled with overcrowding. Last month, the Queensway Carleton Hospital declared a "Code Orange" — an alert issued when all hospital beds are fill and all surge capacity exhausted. This was only the second code orange in the hospital's history. The other one was also issued in 2018.
"This problem is bigger than a bad flu season," said Gélinas. "It's a function of decades of cuts by both the Conservatives and this Liberal government – which has had 15 years to tackle this crisis and instead, has made it worse with budget cuts and freezes, including short-changing hospitals by $300 million in this year's provincial budget. We need to do better for families in Ottawa, we need to do better for children across Ontario. We need change for the better in our hospitals."
Andrea Horwath has been clear on her plan to end the hospital overcrowding and hallway medicine crisis. She's committed to making health care a priority – tackling hallway medicine and long waits in health care with funding that, at a minimum, keeps up with inflation, population growth and the unique needs of each community.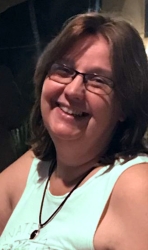 Latest posts by Brenda Stockton
(see all)