Dec 8, 2017 @ 08:16
Zoltan is slowly climing in the ranks. Share the story throughout your networks. Remember every person can only vote once, and must be a member of Facebook.
Current Standings
December 7 – 44th with 157 votes
December 8 – 32nd with 241 votes
Dec 7, 2017 @ 07:16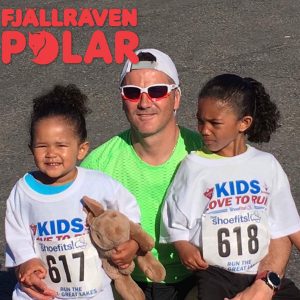 Zoltan Pinter is hoping to participate in a grand adventure – sorta like one of those bucket list items. He has signed up to compete for a place in Fjällräven Polar, an everyday person's trip of 300 kilometres north of the Arctic Circle. This company has created an experience that shows that with guts and gusto, advice and guidance from experts, anyone could take on the challenge of Fjällräven Polar. They will pay for each person's travel to and from Fjällräven Polar, supply them with Fjällräven's best winter clothing and equipment, dogs, and learning from Fjällräven's team of experts in this journey.
Each person will drive their own dogsled, take care of their team, feeding them and sheltering them. This is their transportation and they come first; then preparing their own food and shelter.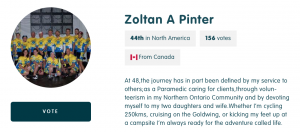 Zoltan, a resident of Wawa, a paramedic for Algoma EMS, and father of two has been looking for adventures and experiences that he could participate in. He has done rock climbing, running marathons and bicycling.
Searching the internet led him to Fjällräven Polar.  He decided to create a profile and compete for a spot. This life-changing experience was one that he would like to do – but was concerned. First, he had no experience, but this is designed for anyone, regardless of skill or experience. You only need to have a reasonable level of fitness. That was easy.
Second, Zoltan is a father of two young girls and has his responsibilities as a parent and responsibilities as a spouse. He said, "if i was single, I'd pack up and go." However, his wife, Kadean offered her support and even assisted in creating his profile for the competition. His family believes that this is an opportunity and experience of a lifetime, and are cheering for him to be successful.
The difficulty is that this competition is based on votes – popularity. Two people will be selected from each region. The first will be selected by Fjällräven Polar, and the second will be the person who receives the most votes.
The competition for a spot in Fjällräven Polar began the 16th of November and ends on the 14th of December 2017 (Fjällräven Polar 2018 starts on 9 April and ends on 14 April.) Zoltan doesn't have much time to get as many votes possible to increase his ranking. He has asked Wawa-news to help spread the word, and help him get more votes via Facebook (you need a facebook profile to help).
If you would like to help Zoltan in his quest – you can vote by clicking on this link. Remember that you must be a member of Facebook in order to participate. Zoltan is 44th at this time – let's see if we can bring him to the top. Wawa-news will continue to track his progress.
December 7 – 44th with 157 votes
December 8 – 32nd with 241 votes
---
Editor's Note: This article was updated to reflect that Zoltan lives in Wawa, and that the event that Zoltan is competing for a spot in will be held in April of 2018.
Latest posts by BrenAdmin
(see all)