Oct 20, 2017 @ 08:07
The North East Local Health Integration Network (NE LHIN) is pleased to announce that 16 Northerners have accepted positions on the LHIN's first-ever Patient and Family Advisory Committee (PFAC). The first group of advisors includes Sault Ste. Marie resident Rina Clark, Alan Elliot of Echo Bay, and Brenda Lediett of Blind River.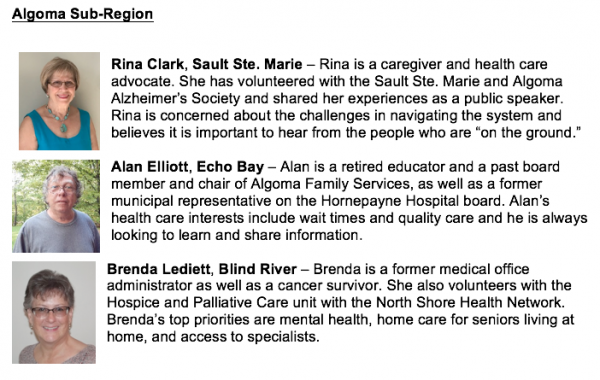 The Northeastern Ontario Committee will meet for the first time at the end of October and will begin its important mandate of providing advice to the NE LHIN on how to better the patient experience across the NE LHIN. In addition, it will advise on engagement and communication with patients, their friends, and families, leading to improved patient and health system outcomes.
"We are very excited to begin working with our Patient and Family Advisory Committee," said Kate Fyfe, Interim CEO of the NE LHIN. "These 16 amazing Northerners bring a collective wealth of knowledge and experience to the table. They were chosen from a pool of 75 high calibre Northerners – all of whom want to actively participate in building a stronger system of care in Northeastern Ontario. We are fortunate to have their lived experience and perspectives contribute to our NE LHIN decision making."
Committee members include:
Alan Elliott, Echo Bay
Alexandra Sirois, Chelmsford
Brenda Lediett, Blind River
Charlotte Lavictoire, Earlton
Debbie Malo, Cochrane
Jennifer Vachon, Timmins
Jo-Anne McCool-Maki, Sudbury
Mary Murphy Foran, Elliot Lake
Patricia Griffiths, South River
Rebecca Geauvreau, North Bay
Rina Clark, Sault Ste. Marie
Robert Porter, Massey
Ronald Gervais, Sturgeon Falls
Susan Koppisch, Parry Sound
Sylvie Fontaine, Hearst
Vanessa Morris, Sudbury (Youth Advisory and Ex-Officio member)
Important note: There remains one vacant seat on the Committee which will be filled in the coming week by a representative of the James and Hudson Bay Coast sub-region.
A Chair and Co-Chair will be appointed following the first meeting in October.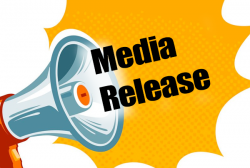 Latest posts by This Media Release
(see all)