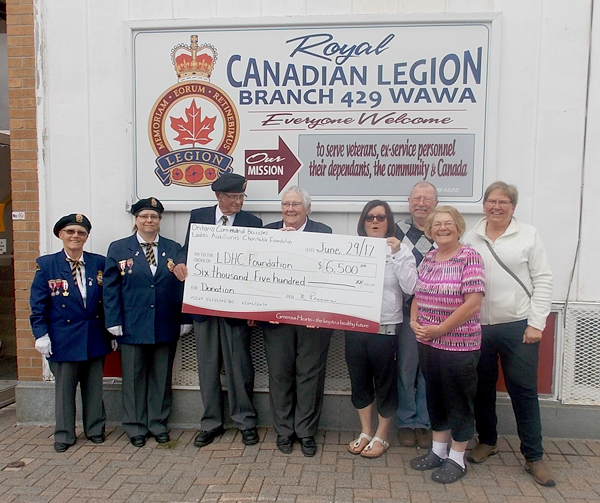 If you ask questions you sometimes get a real surprise like the man in Holland who visited the Oosterbeek War Cemetery and he wondered how 33 Canadians were buried with the thousands of British Paratroopers from the battle of Arnhem in 1944. So the answer was that the RAF was short some officers and the RCAF had a surplus; so some of the aircrews were Canadians and when the British escaped over the Rhine river Canadian Engineers helped them with fold up boats powered with outboards and this was under fire and some boats were hit and the occupants died or drowned.
At the Branch we had a Celebration of Life and a Legion ceremony for our late Comrade Nestor Erechook who passed away. He was a 70-year member and WW2 Veteran. He donated the lot on which the Branch was built and helped with the construction.  He will be missed but we will remember him. Once more we wish all our Comrades a good summer till our first meeting in September.
We had the opportunity to officially present a cheque to our Lady Dunn Health Centre Foundation in the amount of $6,500.00 which was presented by our President Mary Anne Pearson to Janet Besner, Chair for the Foundation. Also present were Comrades Brenda Ouellette, Pat Harron and Dave Page and for the Foundation Mrs. Rody, Jim White and Susan Switzer, and I was happy to take Photo.
This elderly couple had the neighbors over for a visit and when the elderly lady went into the kitchen the neighbor asked the old man why after 60 years he still called his wife with Honey, Darling, sweetheart and other love names?
So the old fellow looked down and said… "for the last 10 years I have forgotten her name and I dare not guess!"
To all our Comrades sick at home, in the hospital or nursing homes you ae in our thoughts and prayers and we wish you well.

Nick Veldt has been a long-time Legion Member, and writes a weekly column about the happenings at Branch 429, Wawa.

Latest posts by Nick Veldt (see all)