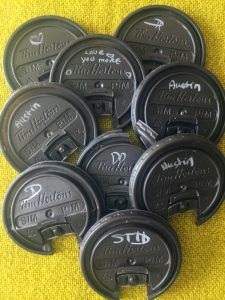 After cleaning Highway 17 south to the Soo, we took a little break from the freezing, merciless wind. I could feel the chill for days. This gave me time to count beer cans, organize and reflect.
Drinking and driving is sadly, still in full swing.
People, what is wrong with you!!!
On that short stretch of Highway 17, from Tim Hortons to the Michipicoten River Bridge (approximately 7 kilometres), we picked up 3 cases of beer and liquor bottles, 280 cans (Bud, Blue, Palm Breeze, etc…), $35 in deposits. A sobering statistic!
On the lighter side: I have sometimes nightmares. Chasing Timmy cups and the wind prevents me to get hold of them…  Then, just the other day, along a road, I picked up umpteen red cups and the lids had little messages inscribed on them. The purchaser, a coffee lover, named AUSTIN, loves double doubles, and must have an admirer amongst the staff at Tim Hortons.
Dear Austin, whoever you are? Didn't your mother teach you to not litter?
Come and give us a hand and help us clean up after litterbugs like you – it is not a nice job though. It is exhausting, crawling up and down embankments, over rocks and slippery grass, getting scratched by bushes and stumbling over stumps, just to get that red cup, cigarette pack or glittering chip bag. And it is not only very physical work, but it is also very demeaning to pick up somebody else's mess, not to mention a waste of precious time and energy.
So to all the Austin's out there, 'Think before you Toss!'. Change your lifestyle for the betterment of all.
Thanks once again to all my helpers, Women Power Rocks!
Until next time, Karin.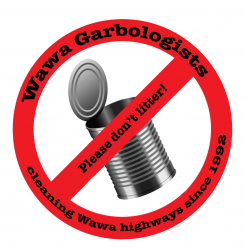 Latest posts by Karin Grundt
(see all)