The Congregation welcomes everyone to worship at First United Church.
 Services are held on Sunday at 11 a.m. 
If anyone has a question or concern please leave a message on the answering machine 
at the Church  705-856-2926.
The Easter Cross of Lights will again be placed above the front door of our Church.
 If you wish to purchase a bulb in memory of someone the cost is $5:00 a bulb.
 Please contact Maria Reid at  705-856-2861.  The Cross will be lit on Palm Sunday.
Thurs.  Apr.  06    Worship Committee  CANCELLED – new date undecided.
Sat.      Apr.  08     Prayer Shawl Ministry – 3 p.m.
Sun.     Apr.  09     PALM  SUNDAY – the 6th Sun. in Lent.  
                                  It commemorates Christ's Triumphal Entry into Jerusalem.
                                  The Sacrament of Holy Communion will be celebrated.
Fri.       Apr. 14      GOOD FRIDAY – an invitation has been extended to the
                                   Congregation of St. Paul's Anglican Church to Worship with 
                                   First United at 11:00 a.m.  to be followed by Hot Cross Buns.
  Live in God's  Freedom and know Peace !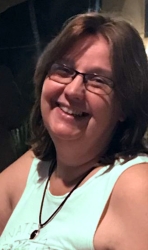 Latest posts by Brenda Stockton
(see all)