Mar 21, 2017 @ 09:16
Sault College is honoured to announce that the Ted Nolan Foundation has partnered with the College to continue granting scholarships to deserving First Nations women through The Rose Nolan Scholarship. This support will help many First Nations women accomplish their goal of pursuing a post-secondary education, and is a direct reflection of Ted Nolan's belief that the real strength of a family lies within a woman.
On behalf of Sault College, Dr. Ron Common proudly accepted an initial $100,000 donation from the Ted Nolan Foundation, which will provide two scholarships annually valued at $2,500 each. Building on the Ted Nolan Foundation's commitment to encouraging Aboriginal youth to pursue academic growth for a better future, these scholarships will be awarded each year to First Nations Women enrolled at Sault College. To commemorate this donation and the continuous support of the Foundation, the Health and Wellness Board Room at Sault College was dedicated in her honour, and renamed The Rose Nolan Room.
"It is with great pride and excitement that we accept this outstanding donation," says Dr. Ron Common, President Sault College. "This donation will further complement Sault College's commitment to Indigenous Studies and our Indigenous students. We are truly grateful that Sault College has the unwavering support of the Ted Nolan Foundation to administer this scholarship on behalf of them, and that this donation will help many First Nations women pursue post-secondary education at our school. "
The Rose Nolan Scholarship, named after Ted Nolan's mother, was established to help First Nations Women achieve their educational and training goals, while maintaining strong community involvement.  To date, the Foundation has awarded over 121 scholarships totalling more than $300,000 to First Nations women attending post-secondary institutions across the country.
Eligible applicants will provide a one page essay describing their educational achievements, career plans and community involvement along with both an academic and community reference.
Since 2002, the Ted Nolan Foundation's goal has been to encourage Aboriginal youth to pursue academic growth for a better future. Ted believes that Today's Youth will be Tomorrow's Leaders.
"Inspiration is the seed that blooms into a Rose" – Ted Nolan, President, Ted Nolan Foundation.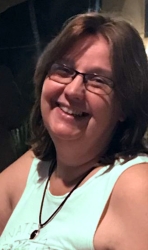 Latest posts by Brenda Stockton
(see all)