Feb 21, 2017 @ 10:22
Highway 17 just north of Wawa at the Northern Lights Ford Dealership has some substantial erosion from the heavy rains last night. It appears as the water had funneled to this spot, ponded, and then broke through the snowbank, and then eroded the shoulder. It also cut a very thin crevasse between the shoulder and the pavement's edge. It was not possible to take any photographs from the ditch side, as the embankment is very steep. That means that the total amount of damage is not visible from this angle. This is the same spot where the highway washed out during the storm of October 25th, 2012.
Rainfall gauges at Michipicoten River Village (The Mission) shows 16.8mm of rain, and the gauge at Michipicoten Harbour showed 20.6mm.
The highway will remain closed until it can be inspected for safety. There is no guess as to when the highway will reopen.
The only detour to get from White River to Wawa is via Hwy 631 to Hornepayne, to Highway 11, east to Driftwood and Hwy 655, south to Timmins, then 101 to Chapleau and then to Wawa. This is a 834-kilometre or 518-mile detour and my gps calculates it would take 11.25 hours to do.
Wawa-news.com will update its readers as information becomes available.
With permission from the Superior East OPP Wawa-news.com was able to go to the scene of the washout and take photographs at 9:30 this morning. Wawa-news would like to thank them for helping to get these images to the public.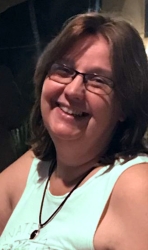 Latest posts by Brenda Stockton
(see all)