Aug 8, 2013 @ 18:53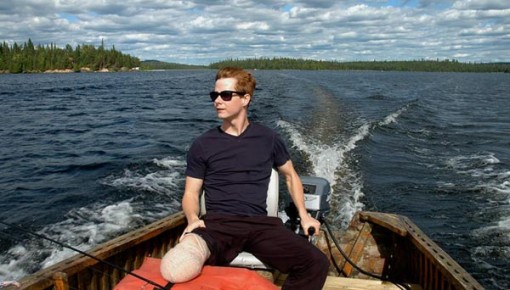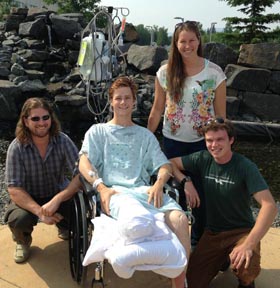 On July 4th, 2013, Colton Liddle was involved in a serious collision at a gas station in Manitouwadge, Ontario. This has changed his family, friends, and to a small degree it seems – Colton. This story is not just about him, but it is about a whole series of events, family and friends that have rallied around him since the instant of the collision.
But to start in the beginning for those who are not familiar with the family, Colton is a child of Wawa, and one with deep roots here. HIs mother, Tamara and his dad, Gerry are well known. Tamara's folks are Gil and Danny Matte, and Gerry grew up at Camp Localsh. Together Tamara and Gerry have four children: Jordan (26), Colton (23), Paige (19) and Jared (16).
Colton is a graduate of Trent University and was working for his fourth summer at the Ministry of Natural Resources as an initial attack forest firefighter. At 11:30 that morning in Manitouwadge, Colton and his crew members, Coby Degier and Evan Orme were headed to resupply in preparation for fighting a new fire: fill jerry cans with gas, buy ice, pick up food kits from the grocery store. Their first stop was to fill the jerry cans and get the ice because the gas station was en route to the grocery store. Pulling up to the pumps, Colton parked so that the Ford F-250 was parallel to the pump, and lifted the jerry cans to the ground to fill. The crew lowered the tailgate and began to pull the jerry cans onto the tailgate, to remove the caps and put them on the ground to fill. As they were doing that, a black car pulling up behind them struck Colton.
In his written statement, he says that he remembers that "impact happening very suddenly, within seconds the car had been moved or rolled far enough back where I had enough space to brace myself on my left leg, I grabbed hold of my right leg just below the knee and felt that it was broken and hanging from the rest of my leg. I hopped one step away from the vehicles and dropped face down on the ground and yelled/screamed for help". Coby immediately laid down on the pavement beside him and began to help comfort and help Colton with his breathing – 911 had been called and an ambulance was en route.
Tamara explained in greater detail "With their backs turned there was a sound of an engine revving behind them, they continued working… again another high rev, then in a blinding moment Colton was crushed up against the tailgate with a force that slammed it shut and lifted the suspension of the 250. In a freak accident, a woman lost control of her Dodge Dart and slammed into my son, mangling his leg into the tailer hitch."
Amazingly, he was thinking clear enough despite the obvious pain he had to be suffering to hand Evan his phone and take photos of the scene, and make phone calls to Colton's family. Colton spoke to his mother, Tamara, and explained that he had been in an accident and that his leg, was broken. Tamara then spoke to Coby and was reassured that the ambulance was on it's way – but Tamara noted that her voice sounded a little frantic. She put it aside, thinking that she probably doesn't have any brothers "and it's freaking her out, to see his leg broken. I've never been very good at injuries, I tend to react the same, kinda freak out and feel helpless…so I totally understand why her voice sounds a tad frantic…" What Tamara didn't know, and Colton didn't tell her at that time, was that Coby had been injured as well. Her foot had been run over at the same time that Colton had been hit!
At some point, the decision was made to create a tourniquet because Colton was losing a lot of blood due to the severity of his injuries. The mechanic tried to wrap the leg with tape, but that didn't work well. Colton's other crew member, Evan took off his belt for the mechanic to use. Once the ambulance arrived, the paramedics stabilized the leg and put him on a stretcher. Since Coby had been injured, one of the paramedics stayed behind with her, and an OPP officer drove the ambulance with Colton to the hospital. After they arrived at the hospital, Colton was able to call his father who was working in White River. He advised his dad not to come because he was sure that he would be treated elsewhere.
After what seemed to be hours, the air ambulance arrived. Colton and Evan, as his companion were being flown to Thunder Bay. Colton said that most everything that night was a blur except a brief moment with the surgeon. His leg was beyond repair, and the surgeon wanted him to see the damage and understand that it couldn't be fixed.
Colton concluded by saying "I woke up several hours later without my right leg below the knee but I also woke up to my family and loved ones with tears in their eyes and smiles on their faces; they have been a constant source of support for me since. My life will be forever changed from that day forward but I truly believe that I am here today because of my two crew members, Coby and Evan. Without Coby's immediate reaction to hop on top of me and help me with my breathing, calm me down and keep me conscious when I was moments away from passing out. And without Evan being that familiar face and my support when no one else was there to tell me that everything was going to be okay and remind me that I had loved ones waiting for me and counting on me to fight death and make it through this alive I wouldn't be here today. Without either of them, I truly believe that I would have died right there on the scene or died on the stretcher to Thunder Bay, you two are my heroes! Thank you to my absolutely huge support group! You help me every day to confront this challenge head on and persevere through all the obstacles!"
Wawa-news will continue this story with how Colton is adapting to his new challenges and the incredible support that he is receiving.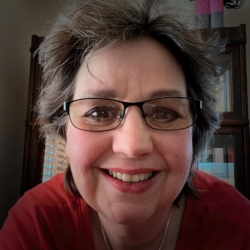 Latest posts by Brenda Stockton
(see all)